Unique fashions with a personal touch boutique experience
Madhu Mayer | 3/22/2017, 10:06 p.m.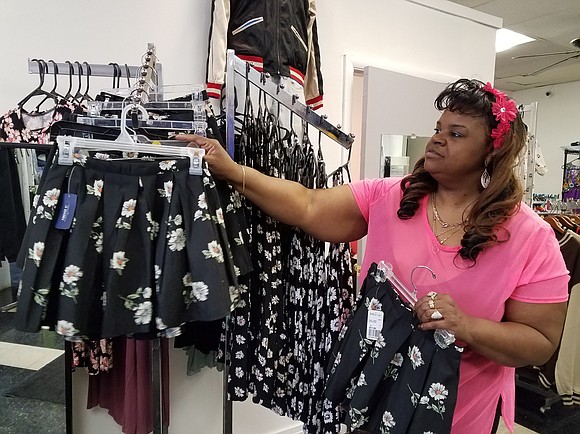 A professional model known for her fashion sense wants families in the Joliet area to realize they can dress and look good without giving up on personalized service and style.
Owner Sandra Moore of Sandy's Unique is celebrating the grand opening of her new store location at 28-30 W. Clinton St. in Joliet with a ribbon-cutting ceremony at noon Saturday March 25. She previously operated a store at 114A E. Jefferson St., also in Joliet, but building issues forced her to relocate to her current location in February.
"I sell clothing, accessories and all-occasion baskets," said Moore, the mother of four sons and a grandmother of five girls and three boys. What is "unique" about the baskets is they are ideal for weddings, Easter, birthdays and anniversaries, especially made by Moore from scratch.
"I try to have things you cannot find anywhere else," Moore said. For example, Moore, who has been in business for seven years, said a customer can bring in a Chicago Cubs jersey they bought from another store and she can convert it into a dress. Another popular request she receives from adults is to design and make tutus.
"I thought it was popular with only kids, but adults like them too," she said.
In a day and age when most people shop online, Moore suggests those busy women opt for a pleasant experience at Sandy's Unique. Unlike clicking on the computer, Moore said her customers receive tailored, personalized service when choosing clothing from casual to dressy.
"This business truly has its ups and downs," she added. But since opening her store at the new location on Clinton Street, Moore has noticed more customers due to increased pedestrian traffic in the area.
"I chose Joliet because this is where I live and my family is here," she continued.
For Moore, Joliet was not always home as she at one time lived in Maine. A professional model from ages 13 to 17, Moore said she had the opportunity to work professionally in Paris, but she was faced with a life-changing decision. Instead of choosing the city of lights, she decided to move to Maine with her fiancé, who was in the military.
"Since I wanted to have my own clothing line, I went to business school," she said. Eventually, she returned home and pursued her dreams of being a business owner.
"I loved modeling, but I love this, too," said Moore.
Sandy's Unique is open from noon to 7 p.m. Mondays to Saturdays. Moore said she is working on a Web site for her store. For more information on Sandy's Unique, call Moore at (815) 207-8884.