JTHS Superintendent meets with district parents, community members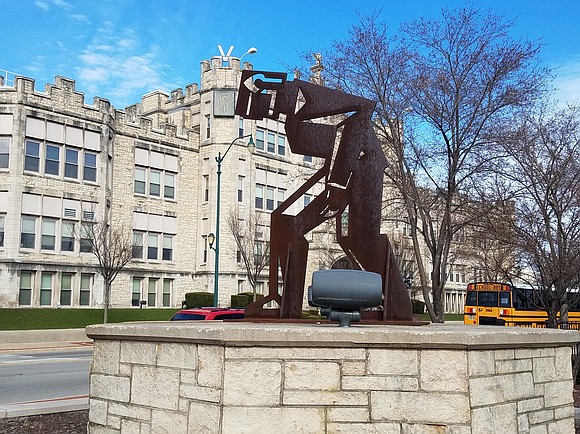 Joliet Township High School District 204 JTHS was one of 433 District across the U.S. and Canada that were named to the annual AP District Honor Roll. That was just one of the highlights of the fourth "Community Chat" hosted by District 204 Superintendent Cheryl McCarthy. Parents and community members attended the meeting, along with R. Dale Evans and Don Dickinson, who are JTHS board members on Monday night at Unity CDC in Joliet. Of those named to the honor roll, only three districts were named "District of the Year." District 204 has 6,400 students.
Commenting on the district's progress and the success of the community chats, Supt. McCarthy said, "In every situation I get to meet new people, individuals that didn't know about the school system. It's positive and I think it can grow each time we have it.
McCarthy took over as superintendent in 2012, and began the series of talks this year because she wanted an outlet for parents to be able to interact with administrators and board members outside of the board meeting when parents cannot really ask questions.
Another positive development is a substantial increase in the number of students who graduate has skyrocketed. In 2016, the district graduated 80 per cent of its students. That's up nearly a whopping 10 % from 2012. Although still six points below the state average, the numbers are encouraging. "This shows that we're on the right track," Supt. McCarthy said, "We won't start the real celebration, though, until we reach 90 per cent."
Also, in February, JTHS was named a College Board Advanced Placement District of the Year "for being the national leader among small-sized school districts - defined as having fewer than 8,000 students - in expanding access to Advanced Placement Program (AP) courses will simultaneously improving AP Exam performance." AP courses are the highest level of honors courses students can take and they can then take an exam toward the end of the year, which, if they pass, they can receive college credit for. The overall number of AP exams taken in the district went from 1,096 in 2014 to 1,582 in 2015.
"This just shows the amount of potential that is out there," the Superintendent said. "We have to keep parents and the community involved to help our teachers to motivate our students to continue to achieve. Awareness is just the beginning. That's where I think the community chats are most helpful. To raise awareness and keep our students moving in the right direction." Alex can be reached news@thetimesweekly.com