Community Leaders Come Out For Inaugural Half Marathon in Bolingbrook
PT Solutions Physical Therapy | 3/24/2017, 2:28 p.m.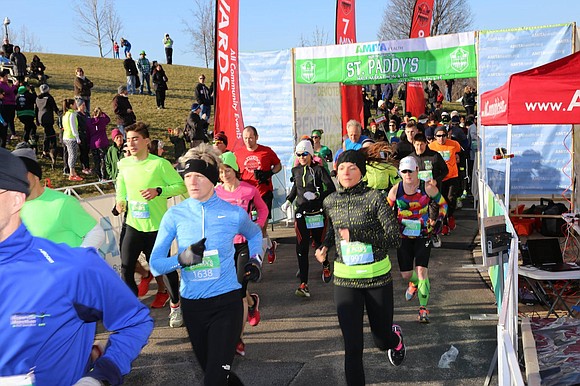 Over 1,700 runners! Over 200 Volunteers!
Inaugural AMITA Health Bolingbrook St. Paddy's Half Marathon & 5K
Sunday, March 19, 2017 – Bolingbrook Town Center
The event, benefiting the Bolingbrook Hospital Foundation, exceeded our expectations in terms of public participation and overall community support. For most, this was the first endurance event of the season, positioning ourselves for a great runner turnout. Not to mention, our weather for mid-March was absolutely perfect running weather.
SUMMARY EVENT VIDEO SLIDESHOW: https://www.facebook.com/ccarpos/videos/739370255366/
START OF RACE LIVE VIDEO: https://www.facebook.com/ccarpos/videos/739219841796/
It was an AWESOME Inaugural Half Marathon and 5K this morning in #Bolingbrook! Upwards of 1,800 runners in our first year! Showcasing Bolingbrook to our residents and to our visitors who came to enjoy today's course!
Big Thanks To:
AMITA Health

The Village of Bolingbrook

PT Solutions Physical Therapy

All Community Events
A tremendous amount of volunteers made today possible (over 200 volunteers). Our PT Solutions Physical Therapy therapists were busy until Noon stretching folks out after their endurance event. Thanks especially to Scott Hagner and the Bolingbrook Amateur Radio Society! Huge kudos to Tom Ross and the Bolingbrook Fire Department & Bolingbrook Police Department! The Village of Bolingbrook Public Works! And also Bolingbrook Community Television for coming out and filming today's event.
And last but not least ... our community leaders and elected officials who woke up early to support the event: Village of Bolingbrook Mayor Roger C. Claar, Trustees Sheldon Watts, Michael Lawler, Deresa Chaney-Hoogland, and Maria Zarate! DuPage Township Supervisor William Mayer! Bolingbrook Park District Board President Denise Allen & Executive Director Ron Oestreich! ... and probably so many more!
...all supporting the Bolingbrook Hospital Foundation!
My Best,
Michael Carpanzano
Regional Director of Sales
PT Solutions Physical Therapy
In Partnership With:
AMITA Health Adventist Medical Center, Bolingbrook