Bacon and Asparagus Pesto Pasta
3/28/2017, 11 a.m.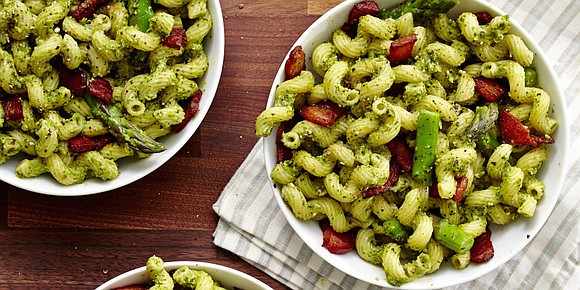 SERVINGS: 4
INGREDIENTS
1 lb. pasta, such as cavatappi or rigatoni
2 bunches asparagus, blanched and qaurtered
2 c. fresh basil leaves
1/2 c. extra-virgin olive oil
1/4 c. shredded Parmesan
1/4 c. almonds
1 clove garlic
1 tsp. kosher salt
6 slices bacon, preferably thick-cut
Freshly ground black pepper
DIRECTIONS
In a large pot of salted boiling water, cook pasta according to package directions until al dente. Drain, reserving 1 cup pasta water, and return to pot.
Meanwhile, make asparagus pesto: In the bowl of a food processor, combine 1 bunch blanched asparagus, basil, and olive oil and pulse until combined. Add Parmesan, almonds, garlic, and salt and blend until combined.
In a large skillet over medium heat, cook bacon until crispy. Transfer to a paper towel-lined plate and let drain, then chop.
Add pesto to pasta and stir until fully coated, then stir in 1/2 cup pasta water until creamy. (Add more pasta water if desired.)
Stir in bacon and remaining blanched asparagus and season with pepper.