Trinity Services spreads message of inclusion
Thetimesweekly.com | 3/28/2017, 11:51 a.m.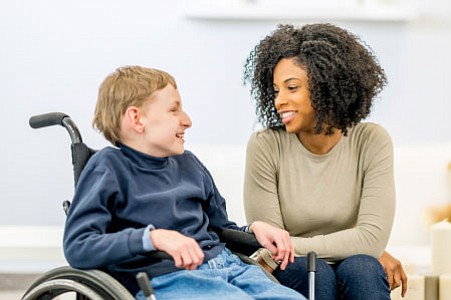 New Lenox, IL - Efforts to promote awareness of developmental disabilities is a year-round endeavor for Trinity Services, Inc.
Trinity supports hundreds of men, women and children with developmental disabilities through its residential services, adult learning programs, school, supported employment programs, and other specialized programs and services.
Trinity's mission is to help those it serves so that they may flourish and live full and abundant lives.
Part of flourishing means the people Trinity services are integrated into their communities, provided the same opportunities that people without disabilities have to experience the world, socialize and contribute to society in a meaningful way. And part of that integration depends on the general public having an understanding of developmental disabilities as well as a willingness to accept people's differences.
Developmental disabilities are categorized as any condition that causes impairment in physical, learning, language or behavior areas. Some common types of developmental disabilities are autism spectrum disorder, cerebral palsy and intellectual disabilities.
Some people with disabilities may need specialized education courses. Others may require assistance to complete duties at their jobs. And some may need help getting from place to place, cooking their meals or completing other tasks that are part of a typical day.
These differences do not mean that people with disabilities must lead a life that is any less full than that of any other person. Having a full life and being a member of one's community requires acceptance from other members of the community. Many people with disabilities have felt excluded, judged, belittled or disrespected at some point in their lives while in public, and this is why spreading a message of inclusion and oneness is so important.
At Trinity Services, Personal Outcome Measures defined by The Council on Quality and Leadership, a human service training and accreditation organization — which Trinity's Executive Director Art Dykstra once led — are ingrained into the culture. These measures have an impact on the quality of one's life — regardless of ability or disability — and all staff members at Trinity Services strive to ensure the people Trinity supports are provided the following outcomes.
People: are connected to natural support networks; have intimate relationships; are safe; have the best possible health; exercise rights; are treated fairly; are free from abuse and neglect; experience continuity and security; decide when to share personal information; choose where and with whom they live; choose where they work; use their environments; live in integrated environments; interact with other members of the community; perform different social roles; choose services; choose personal goals; realize personal goals; participate in the life of the community; have friends; and are respected.
To wrap up Developmental Disabilities Awareness Month, Trinity Services encourages others to continue to spread a message of inclusion — a message that dates back to the month's national proclamation in 1987.
Trinity Services, Inc. is a 67-year-old, nonsectarian, nonprofit organization dedicated to helping children and adults with developmental disabilities and mental illness flourish and live full and abundant lives. Trinity serves more than 3,500 people in 31 communities in Will, Cook, DuPage, Grundy, Peoria, Jackson, Madison and St. Clair counties, and Reno, Nevada. To learn more, visit www.trinity-services.org.