2017 Kia Niro Hybrid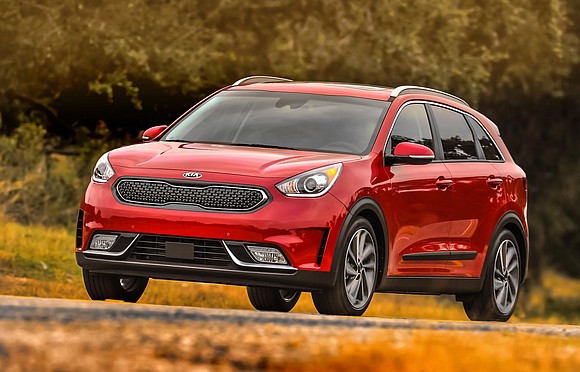 Efficiency and emissions were further improved via the Niro's exhaust heat recovery system, which sped engine warm-up by routing coolant to a heat exchanger in the exhaust system. A 43 horsepower electric motor was fitted between the engine and transmission and worked in tandem with the gasoline engine to produce a total of 139 horsepower and 195 lb.-ft. of torque.
That power was transmitted through a newly developed, second-generation six-speed dual-clutch transmission with a sport mode. The transmission delivered smooth, quick shifts which were in stark contrast to other hybrids equipped with continuously variable transmissions.
It sounds like hype out of the press materials but they were right, the Niro shifted gears quickly and without that drone that comes with a CVT. Shifts were sharp and decisive, the car was peppy and it was relatively quick for a hybrid.
Some of that quickness had to do with weight. Depending on the trim level, the Niro weighed from 3,060 lbs. to 3,300 lbs. That's 500 pounds less than some of its competitors. To reduce weight the hood, tailgate and some suspension parts like the steering knuckles were aluminum. What's more, the Niro only comes in front-wheel drive to keep its weight down.
This is Texas hill country and the Niro was very spry on two lane thoroughfares like Rebecca Creek Rd, Spring St., TX 306 and TX 2325. Spring and shock compression never bottomed out in the severe dips and acceleration was pretty good even when ascending some relatively steep hills.
The seats were comfortable. The Niro was pretty quiet. There was plenty of elbow room for two adults in the front. The dashboard was wide and flat-faced. It was textured but we thought it was a bit hard. We were test driving the Touring trim line.
Electric energy and power for the whole system was provided by a compact and lightweight 1.56-kWh Lithium Ion Polymer battery located underneath the rear seat. Because the high-voltage battery was both powerful and energy dense, Kia claimed it was smaller and lighter than other hybrid batteries, and that allowed engineers to downsize the gasoline engine to further maximize fuel economy and reduce emissions.
Kia wanted a versatile crossover vehicle because people use the heck out of them, said Michael Sprague, Kia's executive vice president. The automaker didn't want the Niro to look like a hybrid (it doesn't). They were after rugged modern efficiency. "It's styled to be used," Sprague said. Coefficient of drag was 0.29 and a wide tailgate with a low lift-over makes it easier to put things into the back onto the flat cargo floor.
It was an efficient interior with a sweeping horizontal field and a large center control area, logical control placement and higher hip point. The sight lines were great.
There are five trim levels:
The FE, with a starting MSRP of $22,890 and 50-MPG (combined) is equipped with a long list of standard features, including: 16-inch wheels; 6-way front seats; power windows; keyless entry; cruise control; 7-inch touchscreen display with rearview camera; UVO3 with Apple CarPlayTMhttp://www.thenewsmarket.com/GLOBAL/Latest-News/kia-motors-america-announces-2017-niro-pricing/s/0a80ffde-578b-4772-ab73-8bdeb6cb2a4a?utm_medium=email&utm_campaign=Kia Motors America - Kia Motors America Announces 2017 Niro Pricing&utm_content=Kia Motors America - Kia Motors America Announces 2017 Niro Pricing+CID_8782605d50681890aae3645fcc724f59&utm_source=TNM email alerts&utm_term=ViewDownload this content - _edn3, Android AutoTM and a six-speaker audio system with steering-wheel-mounted controls.