Bolingbrook mayor confident ahead of April 4 election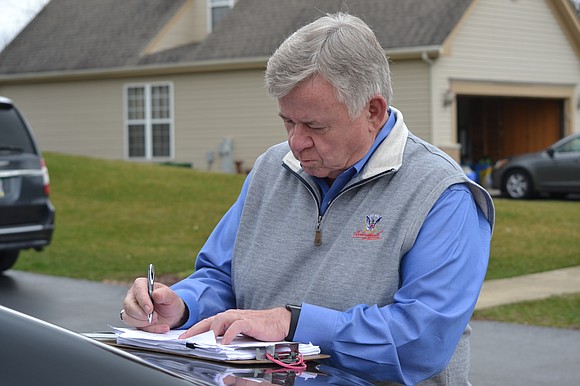 Roger Claar had a busy day on the last Sunday before the April 4 election.
He woke up early to go to church, then met with his team at their campaign headquarters, and was the special guest at an Eagle Scout ceremony. And that was all before going out and knocking on doors in Bolingbrook where he was running for mayor.
The weather was clear and favorable for walking door-to-door, but Claar did not have a lot of luck finding people home. When he got no response, he would personally sign one of his flyers "Sorry I missed you - Roger," and place it by the doorknob. Still, he and a couple of volunteers managed to reach dozens of houses on the village's east side along Jennifer Lane. Despite not reaching many voters, Claar was upbeat about his chances in the election.
"I feel good," he said feeling confident in his 30-year record of serving residents.
Many locals, like Susan Hervas, didn't need much convincing. The longtime Bolingbrook resident was familiar with Claar and had already made up her mind.
"We are really, really happy with you," she told him as the two spoke in her front yard.
Even Hervas' husband, George, enthusiastic as he hurried out of his house to catch him. The two spoke for a few minutes and George expressed his frustration with what he saw as unfair critiques of the mayor's record with the village's debt in particular.
"We gotta get you back in there," George told Claar.
Claar pounced on the opportunities he got with voters including one who had a sign for his opponent Jackie Traynere posted in his yard. He expressed his concerns to Claar about the debt and "mistakes" he considers like the construction of the golf course. Still, Claar was able to turn on the charm and state his case. Following the meeting, the voter was left with some doubt in his mind about who he'd cast a ballot for on April 4.
"To be honest with you it's a toss-up for me," the resident said after speaking to Claar.
"I'm a known quantity," Claar responded.
"You know what, that's very true."
The election is April 4. For more information on registering to vote, you can visit thewillcountyclerk.com or click here. For more information on your polling place, click here.