Computational Lab adds Paul and Kathleen Kaiser to its name
3/31/2017, 6 a.m.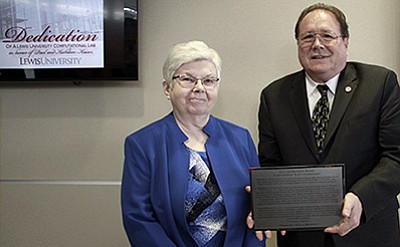 Lewis University dedicated a computational science lab in honor of Paul and Kathleen Kaiser on March 14. The lab is housed in the Science Center on the main campus and will provide new opportunities for students of multiple disciplines to use computers to advance science by modeling and simulating the physical world.
"In the sciences, we need to be able to simulate systems to predict their behavior before we invest in expensive lab setups to test our theories," said Dr. Ray Klump, chair of Computer and Mathematical Sciences. "Beyond the sciences, this lab will enhance our students' engagement in creative work, such as composing new pieces of electroacoustic music, or in visualizing scenes with amazing levels of detail."

As a mathematician who later turned his attention to computing, Dr. Paul Kaiser championed computational science – the study of how computers perform calculations and the very nature of what is calculable - as an area of academic focus at Lewis University. It is a field that blends theory and practice well, and it has helped launch the careers of thousands of graduates over the past 30 years.
"It is our professors who create the most significant impact on our students. Paul Kaiser is one of our extraordinary professors," said Dr. David Livingston, President of Lewis University.
"Together with his wife Kathleen – who has devoted both time and support to organizations that support children – the Kaisers have provided a strong foundation of Mission, education and determination to Lewis University and to the community for more than 40 years."
The Glenview couple was previously honored as recipients of Lewis University's De La Salle Award in 2001 and the Frank J. Lewis Philanthropists of the Year Award in 2012.