Roasted Cod with Tomato Cream Sauce
3/31/2017, 11 a.m.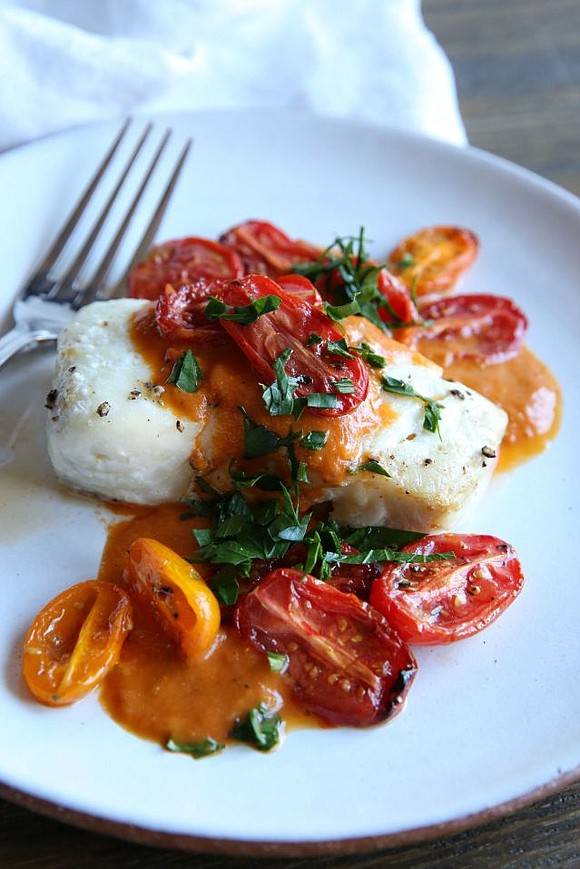 SERVINGS: 4
INGREDIENTS
4 cod fillets (6 to 8 ounces each)
kosher salt
Freshly ground black pepper
extra-virgin olive oil
1 head of garlic, cut in half widthwise
3 pt. cherry tomatoes, cut in half
1/4 c. chopped onion
1/2 c. dry white wine
1/2 c. low-sodium chicken stock
1 tbsp. tomato paste
1/4 c. heavy cream
1/4 c. chopped parsley
DIRECTIONS
Preheat oven to 450 degrees F. Line sheet pan with parchment paper and add cod fillets, both garlic halves (with skin on, cut side up), and cherry tomatoes in a single layer. Drizzle with olive oil; season with salt and pepper. Bake until fish is opaque and cooked through, 15 minutes. Transfer fish to a plate and cover loosely with foil.
Meanwhile, in a saucepan over medium-high heat combine 1 teaspoon olive oil, onion, white wine, chicken stock, tomato paste, 1/2 teaspoon salt, and 1/4 teaspoon black pepper. Bring to a boil and simmer for 5 minutes.
Squeeze garlic cloves from bulb (the skin should separate easily); add garlic and half of roasted tomatoes to sauce. Reserve half of tomatoes for garnish. Bring to a boil again and simmer for 5 minutes. Turn off heat and insert immersion blender into pot, blend until smooth and stir in heavy cream.
Serve cod with tomato cream sauce and roasted tomatoes. Garnish with parsley.