Joliet rally highlights workers' continued struggle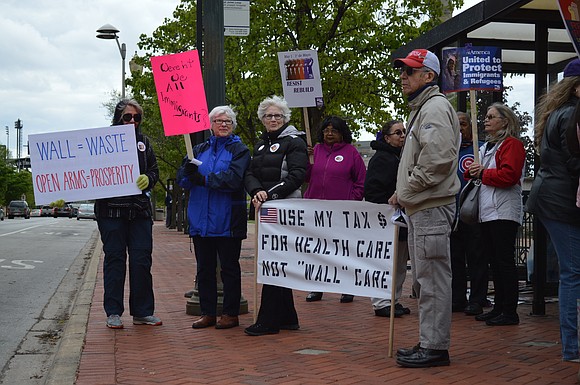 During a lunch-time rally in downtown Joliet this week, labor organizers and their supporters braved the wind and cold to get their message out.
Many gathered outside the Will County Courthouse building, 14 W. Jefferson, to continue their resistance to the policies and actions of President Donald Trump and what they see as an assault on worker's rights, the environment and even the free press.
Cheryl Arevalo, Nancy Russell and Pat Artman trekked to the downtown from Romeoville where they were doing what they considered a continuation of the protests that started the day after President Trump was inaugurated. Arevalo said that she participated in the Chicago Women's March in January and wanted to keep that spirit of activism alive.
"We support each other," said Arevalo of her group that meets regularly, shares relevant news posts on social media, and participate in rally's like the Joliet protest organized by the Service Employees International Union (SEIU) Local 73 on Monday.
The May Day March and Rally was organized by the union to mark the anniversary of the Haymarket affair (also known as the Haymarket riot) that took place in Chicago on May 4, 1886 said SEIU chief executive Jeff Howard. During the 1886 protest, a bomb was detonated that sparked gunfire and the deaths of four civilians.
The Monday event was organized, said Howard, to bring a renewed focus to the "plight of workers."
Though she supported Hilary Clinton in the general election, Arevalo and her friends said that they were willing to give Mr. Trump a chance but have so far been unimpressed by his actions.
"He's just not presidential material," said Nancy Russell.
They see some hope in keeping the President in check through a free press said Russell.
"It's the only thing that's going to get us through this," she said.
Despite the critical stance many in the audience took against the current presidential administration, there is one positive aspect to his time in the Oval Office said SEIU director Ricardo Loza.
"Donald Trump has united people to get involved," he said.
Will County Board member Herb Brooks along with County Executive Larry Walsh came out to the protest to show their support of their constituents.
"They're concerns are my concerns," said Brooks who noted that he's seen a "heightened sense of activism" in his district. Many, he said, have been "uncomfortable with how things have been going at the federal level."
Despite his prediction that Republican Bruce Rauner would not return to office in 2018, Will County Executive Larry Walsh told those gathered that both sides of the political aisle have to find a way to compromise to get things done.
"We cannot survive unless we all work together," said Walsh.