Hamilton Makes History Come Alive for CPS High School Students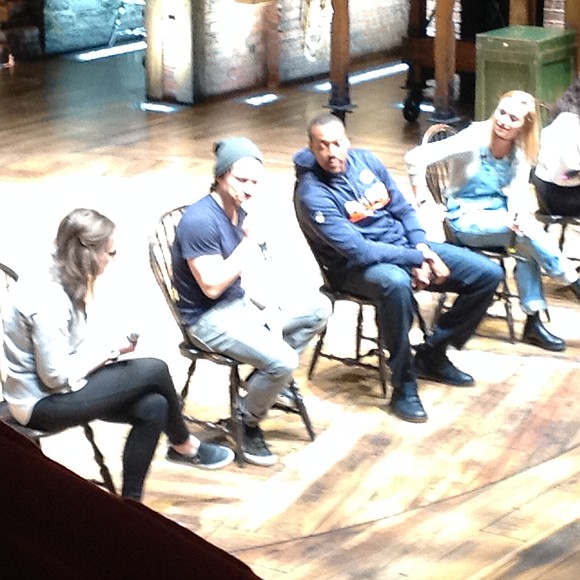 Lin-Manuel Miranda had a Plan B for his career: If musical theater didn't work out, he would continue with his other love: teaching high school. Then came In the Heights. A MacArthur Genius Grant, And Hamilton, which changed the trajectory of musical theater and won every prize there is. The lines in the three cities (NYC, Chicago, SF) where it is currently playing are such that it has started a daily lottery. And it made Ron Chernow, Hamilton's historian-biographer, a rock star.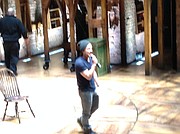 LMM's love of teaching remained strong, so he made a program for students. On a recent morning, Miguel Cervantes, star of Hamilton, welcomed nearly 2,000 excited high school students from 12 schools for a Hamilton day at PrivateBank Theatre. It was the second of 10 scheduled interactions. Students had prepared for the event learning a special curriculum as a first step to creating original works — songs, rap, poetry, scenes, monologues. Each of the schools presented a competitively chosen student or group.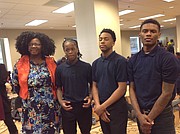 Among the offerings, Camelot Academy West Garfield Park, a transitional school of 13 students, presented Xavier Fowler, Jawaun Stamps and Darnell Jackson in a British Troops rap.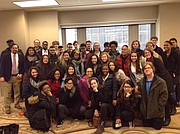 Disney Magnet II High School, 1150 students, graduating its first h.s. class, presented Jai Caldwell in a declamation about Eliza (Hamilton's wife). Principal Katie Speth, who started her career teaching history, was particularly delighted at the collaborative program.
Carmen Villagomez, a student at Epic Academy, said, "Writing my song about Thomas Payne helped me understand the U.S. and Mexico situation." The students connected with the historical figures, "They are just like us, with feelings and problems like ours, even though they lived so long ago."
A Q&A panel followed with Miguel Cervantes (Hamilton), Jonathan Kirkland (George Washington), Samantha Marie Ware (Peggy Schuyler/Maria Reynolds), and Candace Quarrels (Angelica Schuyler) talking about what it's like to be a person of color in theater today (good), how their roles inspired them to learn more about history, and their audition success and failures. All agreed "You have to always be prepared because you don't know when you'll get your break."
After lunch the students returned to see the show. For many it was their first time experiencing live theater. Electric is far too tame a word for the energy in the auditorium.
All told, 20,000 students in each city where Hamilton plays will experience the innovative program created by Producer Jeffrey Seller, Lin-Manuel Miranda, Gilder Lehman Institute of American History and Chicago Public Schools. Educational Partnership tickets are $70, $60 of which is subsidized by funders, $10 for each student. The Rockefeller Foundation provided an initial grant. Local funders are The Crown and Goodman Family, Ken Griffin, The Joyce Foundation, Pritzker Foundation, Pritzker Traubert Family Foundation and the Robert R. McCormick Foundation.