Joliet gives update, tour of new downtown train station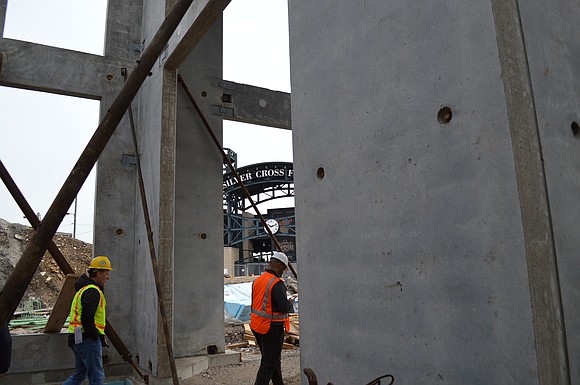 Part of Joliet's long-in-the-making multimodal train station could be done by the end of the year.
To show the progress so far, city engineers and officials from Walsh Construction gave a tour of the construction site this week and the work that's been completed since the city broke ground in 2016.
Work on the new Heritage Corridor platform could be completed by the beginning of 2018 said city engineer Lisa Dorothy who is overseeing the project.
The new facility will offer ADA access as well safer access for commuters who previously had to walk over active rail lines to board train cars. Once completed, passengers will enter the platform through tunnels and will have cover from the elements through a glass-enclosed structure and canopies.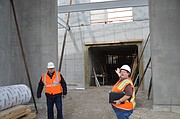 Riders will have more space as well. Where only 3 train cars could be boarded from the old platform, the new one will include enough space for eight train cars of passengers to embark and disembark.
The new transportation gateway should also get those travelling by train to their destinations faster. The old site's set up meant that trains on the Rock Island line would stop in front of the station and block the Heritage Corridor and vice versa.
"The value of this project is that will no longer happen," said Dorothy.
The $30 million project has had its ups and downs over the past few years with a construction start that was stymied by shaky state funding and a lack of a state budget over the past two years. Once the Heritage Corridor platform is completed, Dorothy said that the city will look at where the remainder of the state funds stand and whether or not the Pace bus portion of the facility will move forward or if another revenue source will have to be secured. The city, she said, has contributed $10.8 million for the project which has included engineering, site prep and parking lot construction.
In addition to services for Amtrak and Metra riders, Dorothy said that other transit organizations like Greyhound and Grundy County Transit are interested in utilizing the site and bringing more options to riders.
The site will also preserve part of the former station's Union Depot signal maintainer's tower which was part of the original 1911 structure. Dorothy said that a suggestion from an IDOT engineer to preserve the tower ended up saving funds for other parts of the project. Future plans for the tower could include an onsite museum she said. The city is also marketing the main Union Station terminal space for developers including one that plans to open the MyGrain brew pub there in the coming months.