Rotary bestows Paul Harris Fellow recognition on VVSD's Leroy Brown
5/9/2017, 6 a.m.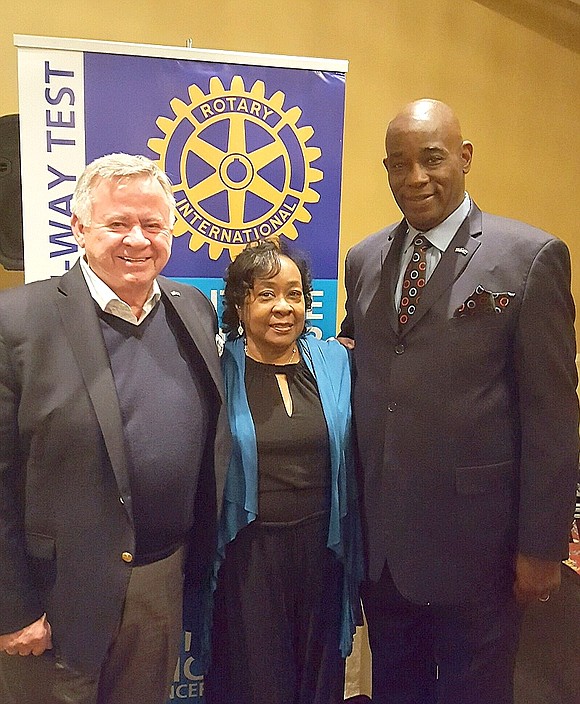 Valley View School District 365U School Safety Coordinator Leroy Brown was
named a Paul Harris Fellow recently at Rotary Club of Bolingbrook
"Top Ten Percent" banquet.
Established in 1957 by the Rotary Foundation of Rotary International, the Paul
Harris Fellow recognition acknowledges individuals who represent Rotary ideals.
Many notable figures have been named as Paul Harris Fellows, including President Jimmy Carter, Russian President Boris Yeltsin, astronaut James Lovell, United Nations Secretary-General Javier Perez de Cuellar, entertainer Pearl Bailey and Jonas Salk.
Brown is the first non-Rotarian in this area to receive the award. He was honored for his "tangible and significant assistance" in the community.
A Bolingbrook Village Trustee since 1993, he has served as Deputy Mayor of Bolingbrook for 17 years. Prior to coming to Valley View 11 years ago, he was Director of Security for Sears Tower for 33 years.
The Vietnam veteran is also a cable television talk show host, a CCD teacher, chairman of ushers at St. Francis Catholic Church, President of the Indian Oaks Condo Association and a member of American Legion Post 1288 and Veterans of Foreign Wars Post 5917.
Brown served as Grand Marshall for the 2016 Bolingbrook Pathways Parade, is a former DuPage Township Male Citizen of The Year, and is a past winner of several other awards including the Bolingbrook Area Chamber of Commerce Lifetime Achievement Award, the Chicago Police Service Award, the Knights of Columbus Family of the Year Award, the George Bailey Citizenship Award, the Fred Hampton Scholarship Award, and the Patriot Award winner.
He and Pat, his wife of 50 years, have two sons and five grandchildren. They have lived in Bolingbrook since 1976.