Film Review: Lowriders
By Dwight Film Critic | 5/11/2017, noon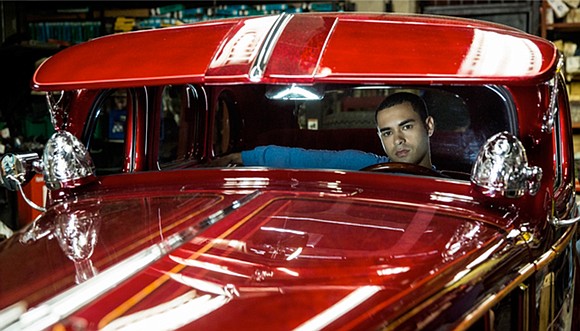 Rarely do urban tales balance authenticity with solid drama elements and strong emotion. "Boyz n the Hood" and "Straight Outta Compton" are perfect examples. "Lowriders" is in their league; it checks all the boxes: acting, direction, writing and production elements. This groundbreaking film about the Latino experience in East Los Angeles will become as classic as those aforementioned films.
The production is the brainchild of Oscar-winning producer Brian Grazer ("A Beautiful Mind"). Peruvian director Ricardo de Montrueil ("Mancora") and writers Cheo Hodari Coker ("Southland") and Elgin James ("Sons of Anarchy" spinoff "Mayans MC") are the perceptive artists who brought the film to life. They've created a compelling story with deeply drawn characters and heart-felt drama, which is perfectly dispensed and measured throughout the film. Just as you think one familial conflict is over, another emerges. The script is so well written it could become a play.
Danny Alvarez (Gabriel Chavarria), a twenty-something Chicano graffiti artist, leaves his spray painted artwork all over East L.A. In fact, the whole city is his canvass. Many of the likenesses are of a mysterious woman, cloaked, face hidden. That image has been a part of Danny's artistic DNA every since his mom died.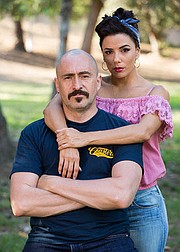 Now he lives with his dad, Miguel (Demian Bichir, "A Better Life"), a recovering alcoholic who runs a car club that specializes in lowriders—classic cars with 50 coats of paint that hug the ground or can bounce high like a pogo stick. His stepmom Gloria (Eva Longoria) and little sister round out the household. Miguel, who expresses his art through his cars, especially his prized old Chevy dubbed "Green Poison," doesn't approve of Danny's graffiti, "You scribble like a bitch." And he is even less tolerant after he has to bail Danny and his buddy Chuy (Tony Revelori, "The Grand Budapest Hotel") out of jail after they get busted for writing on walls.
This set up provides enough drama for a TV series, but the writers don't stop there. Danny gets a Bohemian White girlfriend Lorelai (Melissa Benoist), and their cultural differences complicate their romance. Danny's older brother Francisco, aka Ghost (Theo Rossi, "Sons of Anarchy"), gets out of prison with a real grudge against the father, who never visited him and didn't support his kids during his wife's death. Ghost's way of taking revenge is by competing against his dad in a lowrider competition that has a grand prize with enough money to make a difference in both their lives.
Once the storyline is set in motion, it doesn't stop. Conflict after conflict. Crisis after crisis. Romances strained by miscommunication and insecurities. Emotions like anger, fear, happiness and sadness ride the surface from beginning to end. It's the mark of strong writing and the talented cast conveys those feelings perfectly.
Supporting actors like Revolori and Cress Williams (TV series "Code Black") as a police detective, fill in the cracks. Eva Longoria as the nurturing stepmom turns on the charm. The very smoldering Rossi, heavily tatted, boils over with anger; the way he plays Ghost, you know violence is around the corner.