BHS girls track team sectional champs
BHS wins girls track sectional; VVSD student-athletes headed for state
5/16/2017, 3:50 p.m.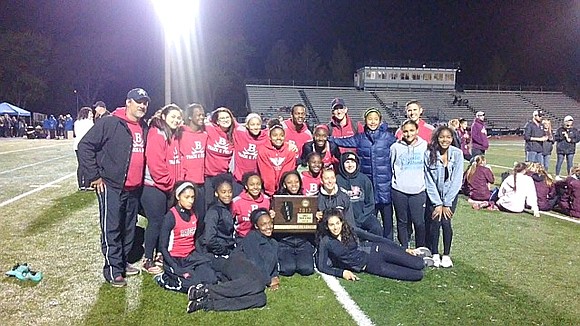 Valley View School District 365U will send eight individuals and three relay teams to the IHSA Class 3A state girls track championships May 18 after Bolingbrook High School won the team title and Romeoville High School finished sixth at sectionals Thursday.
BHS' Claire Young qualified in three events: high jump, 100 meter dash and 200 meter dash as did her teammate, Kayla Perry, who made it in the long jump, 100 meter dash and 400 meter dash. The Raiders Kayla Walters qualified in the 100 meter high hurdles (sectional champ) and the 300 meter low hurdles, while Romeoville High School's Kaniyah Rush and Jahnetta Jones will compete at state in both the 100 and 200 meter dash. Rush won sectionals in both events.
Other BHS state qualifiers include Tyroney Taylor in the triple jump and Katelyn Johnson in the 300-meter low hurdles. Spartan Nia Lee made it in the long jump.
The RHS 4x100 and 4x200 meter relays teams won sectionals and will compete at state. The BHS 4x100 relay team also qualified.