Rev. Jesse Jackson to Bolingbrook senior class: "Vote."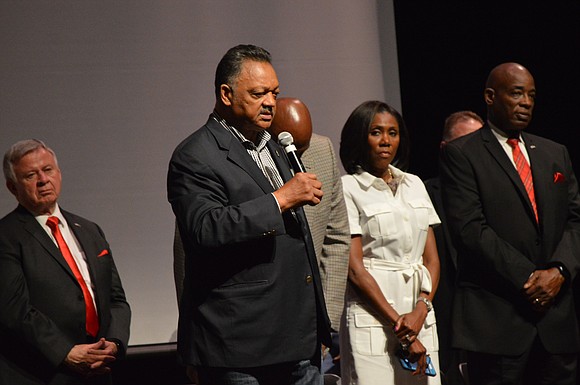 When he looked out into the seats of Bolingbrook High School's auditorium, the Reverend Jesse L. Jackson Sr., Founder and President of Rainbow PUSH could see the impact a 63-year old Supreme Court decision has had on the U.S. education system.
The diverse sea of faces looking up toward the podium as Jackson took the stage would not be possible had it not been for the 9-0 decision of Brown v. The board of Education of Topeka Kansas. The decision set in motion the desegregation of the U.S. public school system and the forward motion in the civil rights movement that was to come.
Rev. Jackson was in Bolingbrook to speak on the anniversary of that Supreme Court decision that was handed down on May 17, 1954.
He encouraged the seniors in attendance not to take for granted the rights they have and for those who had yet to register to vote to do so. He told the audience that voters can make their impact felt in society by serving on juries, getting scholarships, running for office and choosing elected officials.
"When I vote I have the power to use the American gift," he said, leading the crowd to recite the line again.
"The right to self-determination," he said encouraging students who hadn't registered to come forward to get a registration packet.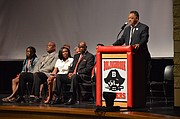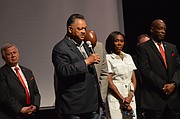 Jackson rose to prominence when he took part in the protest march from Selma to Montgomery Alabama with Dr. Martin Luther King in 1965 to draw attention to attempts to suppress African-American voters. He later ran for President, first in 1984 and again in 1988.
Rev. Jackson said that the death of Dr. King in 1968 didn't deter him and others from continuing to push to improve the U.S.
"We were determined not to let one bullet end our struggle to make America better," he said.
"America is a multi-cultural nation that has to learn to live together, no easy task at times.
"Walls have been built to keep us apart," he said cautioning students that "Some people benefit from the wall being up."
Bolingbrook Deputy Mayor Leroy Brown said that Jackson has dedicated his life to helping people and hoped that his visit would serve as a source of inspiration for the seniors who would soon be heading off in to the world.
"These young people are going to change the world," said Brown.
Jackson agreed, saying later, "where there is life, there is infinite possibility."