In Our Own Backyard: Every child needs healthy whole foods
Kay Bolden | 5/18/2017, midnight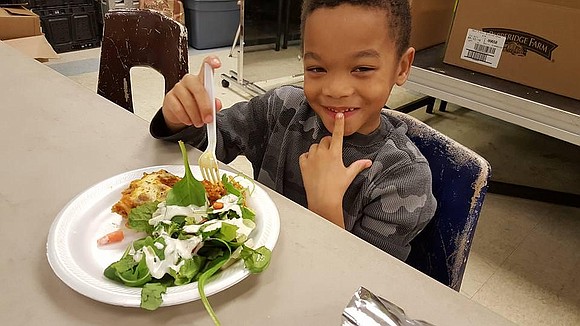 In Our Own Backyard is a Times Weekly column covering environmental justice, climate change and food justice, and how these issues impact our families every day. If you think oil spills, contaminated soil and toxic water pipes don't really affect you – we want you to think again. It's happening right here, right now, in our own backyard.
Too Much Salt, Not Enough Common Sense
Agriculture Secretary Sonny Perdue announced last week that he would weaken or eliminate former First Lady Michelle Obama's healthy eating initiatives for stricter nutritional standards for school lunches. This is good news for companies who sell food to schools; processed foods are cheap, fast and easy to produce.
But for low-income students across America, it's yet another roadblock to accessing healthy food. In Joliet Grade School District 86, where 70% of students qualify for free or reduced-fee meals, that school lunch may be their only healthy meal of the day.
Perdue is pushing back regulations in Obama's Healthy, Hunger-Free Kids Act, which aimed to improve nutrition and reduce child obesity. In addition to authorizing funding for federal lunch programs, it issued standards calling for more whole grains, fruits, vegetables, low-fat milk products, and less sodium and fat.
As former First Lady Michelle Obama said, "You have to stop and think, 'Why don't you want our kids to have good food at school? What is wrong with you?' And why is that a partisan issue?"
Why would anyone object to these basic nutritional standards? You only have to follow the money to find the reason. Nationally, the school lunch program is a $20 billion industry. Serving chemically processed food is far cheaper and more profitable for food vendors and manufacturers. Schools in poor districts, already cash-strapped, become tidy profit centers for food companies. Children in these districts are also disproportionately children of color.
The percentage of U.S. children with obesity has more than tripled since the 1970s, causing long-term physical and emotional distress for children, according to the Centers for Disease Control and Prevention. Children with obesity are at higher risk for having asthma and Type 2 diabetes, are bullying targets, and experience depression.
Opponents of the regulations often cite food waste as one of their reasons, saying kids don't like to eat healthy food. The "junk food environment" we live in sometimes makes it hard to change eating habits. Isn't that all the more reason to begin feeding our kids healthy food when they're young?
Back in March, White House Office of Management and Budget Director Mick Mulvaney seemed to lay the groundwork for abandoning nutrition and assistance for low-income families, announcing future rollbacks in After School funding. He told CNN, "They're [after-school programs] supposed to help kids who don't get fed at home get fed so they do better in school. Guess what? There's no evidence they're actually doing that. There's no evidence they're helping kids do better in school."
He plans deep cuts to the 21st Century Community Learning Centers, which provide after school programs and snacks to 1.6 million children nationwide. Despite Mulvaney's claims, the last performance reports show the opposite: that the Learning Centers improve English and math scores across all grade levels.
Has your child benefitted from nutritious school lunches? Have your kids participated in After School programs? Share your experience with Mr. Mulvaney and Mr. Perdue at Twitter.com/OMBPress.
Kay Bolden is an author, Times Weekly blogger, youth advocate, community activist and urban farmer on Joliet's southeast side. She'd love to hear your thoughts on sustainable living, economic justice, and how we can all live together on the only planet we've got. Follow her on Twitter @KayBolden or drop her a line at Kay@KayBolden.com