Slammers pitcher Kaleb Ort signs with Yankees
5/18/2017, 2:01 p.m.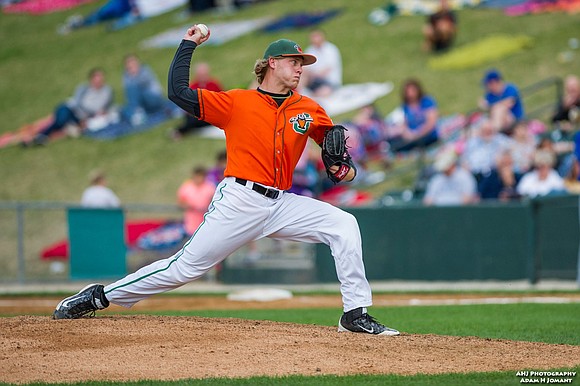 JOLIET - The Joliet Slammers presented by ATI Physical Therapy are
proud to announce pitcher Kaleb Ort has signed with the New York Yankees.
Ort signed a minor league deal with the Yankees and will report immediately.
Last year was his first with the Slammers and he went 3-4 in 20 appearances
(12 starts) with a 6.05 ERA. His strikeout-to-walk ratio on the season was
61-42.
During this season's Slammers exhibition games, Ort has been throwing 95-97
MPH with an above average slider.
In September 2016, Ort was signed by the Arizona Diamondbacks and was
assigned to their Arizona League Affiliate.
Before coming into professional baseball, Kaleb Ort played baseball at
Aquinas College in Grand Rapids, Michigan. Throughout his collegiate
career, Ort tallied a career record of 9-6 with 173 strikeouts and a 3.71
ERA.
The Joliet Slammers continue their nine-game homestand with games at 10
a.m. both Wednesday and Thursday against Traverse City and head into the
weekend with a series against the Schaumburg Boomers.
Friday's game is Superhero night with superheroes provided by Magic, Music
and More on the concourse for autographs and pictures. Post-game fireworks
will follow.
Tickets can be purchased online at jolietslammers.com or at the Box Office
located at 1 Mayor Art Schultz Drive, Joliet, IL 60432. Call (815) 722-2287
with questions.
The Joliet Slammers presented by ATI Physical
Therapy play at the Slammers Stadium downtown Joliet, Illinois, and are
members of the professional, independent Frontier League. The Frontier
League is a 12-team league entering its 25th season of play in 2017. Visit
the Slammers online at www.jolietslammers.com or call the ticket office at
815-722-2287 for more information! Don't forget to "Like" the Slammers on
Facebook at www.facebook.com/jolietslammers or follow them on Twitter at
@jolietslammers!