Memorial Day holiday a day to remember fallen veterans
Brock A. Stein | 5/25/2017, 6 a.m. | Updated on 5/25/2017, 11:23 a.m.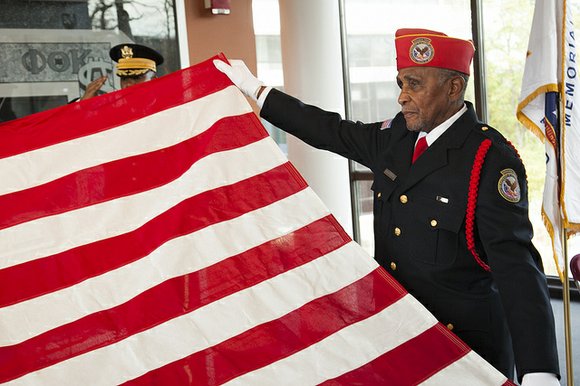 While the Memorial Day holiday offers a chance to kick off the summer with a 3-day weekend, Will County resident Geriann Wiesbrook wants to remind people what the weekend is really about.
"On Memorial Day we honor those who have fallen in service to our country," said Wiesbrook who runs the non-profit organization for veterans Military Mama Network. She notes that there are holidays to honor veterans who have served (Veterans Day) and those who are currently serving (Armed Forces Day) but Memorial Day is set aside for those who made the ultimate sacrifice. It's a somber occasion, she said.
Wiesbrook founded her organization, Military Mama Network when her son, Joseph, joined the army. She said she sent him care packages all through basic training and increasingly he would ask her to include something for one of his fellow service members who didn't have the type of family support he received.
"It grew over the course of his basic training to where I was sending stuff for 50 kids by the time he graduated," she said. Those kids called her 'mama bear' and that lead to the founding of her non-profit which now includes over 16,000 members in 47 states.
"Our kids shouldn't be forgotten," she said. "The fact that they don't have family support is heart breaking."
The organization helps those serving in the military as well as their families back home she said. That support includes sending care packages to the troops with handwritten notes inside—a key detail that shows military members that someone back home is thinking of them. Wiesbrook said that about 50% of vets serving don't receive communications or other support from family back home.
"We always want to remind them that there are people back home who support them and love them," she said.
Other work conducted by the non-profit includes finding solutions to problems that active duty military service members and their families are experiencing. That includes a recent vet who needed help sending flowers to his wife on their anniversary who was back home caring for their 5 children.
"If we can't find solutions we create them ourselves," said Wiesbrook.
In addition to the support of the Military Mama Network, veterans living in Will County have the benefit of living near another local resource that can help them find solutions to challenges they face.
Established by state statute, the Will County Veteran's Assistance Commission helps military veterans, widows and their children find the benefits, grants and other claims that they may qualify for said the agency's superintendent, Kristi Kiper-McNichol.
She said that the agency which connects veterans not only to resources from the VA but also with area agencies that assist with housing, education, transportation and other needs.
"If we're not the subject matter experts on something then we know who is," said Kiper-McNichol, "We're really good a t connecting the dots."

It helps, also, that the agency's headquarters is in the same downtown Joliet building that houses Will County Workforce and an office for the state's department of veteran's affairs. The "one-stop-shop" set up makes it easier for vets who come through the doors looking for assistance she said. The agency, she said, helped over 2,000 vets in 2016 alone and sees about 500 each month. Partner agencies include the Will County Center for Community Concerns, Midwest Shelter for Homeless Veterans, Catholic Charities and local VFWs.
With a mantra centered on collaboration, Kiper-McNichol said that the assistance the agency and its partners deliver is meant as "a hand up" rather than a "hand out."
"We want to get our vets back on their feet to where they don't need us anymore," she said.
Both Kiper-McNichol and Wiesbrook agree that the best way area residents can honor veterans and their service is to donate their time or even make a small monetary donation to a non-profit that helps veterans.
Wiesbrook suggests volunteering to help out at events hosted by local VFWs which host cookouts and fish fries and are always looking for help. She also said that most local nursing homes have veterans living there who receive few visitors. Both also agree that it doesn't take much money to help out.
"People think $1 doesn't make a difference but if you have 100 people donate a dollar that can have a big impact," said Kiper-McNichol.
More information about the Will County Veterans Assistance Commission can be found online at www.willcountyillinois.com/County-Offices/Special-Services/Veterans-Assistance-Commission. Information about the Military Mama Network can be found on their Facebook page, www.facebook.com/MilitaryMamaNetworkpage/.