Prison arson suspect in custody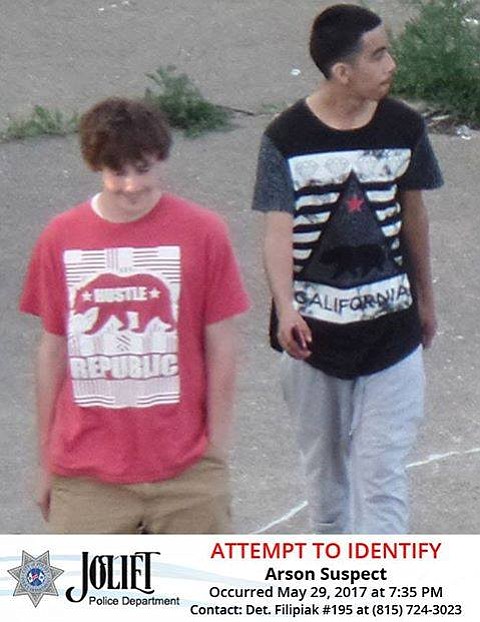 Joliet Police have a suspect in custody for Memorial Day fire that destroyed part of the former prison at 1125 Collins Street. Fire fighters were called to the scene just before 8 p.m. on Memorial Day to battle a blaze that started in a building in the center of the facility.
A press release from the city reports that police arrested a 17 year old juvenile male resident of Joliet around noon on Tuesday. The suspect was found after the department received a number of tips following a social media posting of a photo of two suspects captured at the site prior to the blaze.
The fire started when the 17-year-old suspect "intentionally" ignited some paper at the prison site which lead to a fire in some exposed insulation in the structure.
Detectives also questioned a 15-year-old male who was also captured on surveillance footage at the site but have declined to file charges.
According to the release the 17-year old has been charged with 1 count of arson and has been remanded to the River Valley Juvenile Justice Center where a hearing was scheduled for Wednesday at 9 a.m.
Joliet Deputy Chief Ed Gregory, in the release, said that more information would be available following the completion the investigation reports on Wednesday.
The former Joliet Correctional Center was shuttered in 2002 and was famous for its appearances in TV and movies. It is probably best known for its use in the 1980's movie the Blues Brothers where the character "Joliet" Jake played by John Belushi is released from prison.
Earlier in May, the Joliet City Council considered but ultimately tabled a plan to purchase the prison site from the State of Illinois in order to use it as a tourist destination.

The site has also become the focus of urban explorers with Joliet police having responded to a 911 call last year after two women trespassing on the site locked themselves in to a cell.

Former city manager Jim Hock told the council in May that the facility is in "an extreme state of dis-repair after the state closed it in 2002 and is still full of material that could potentially catch fire." Hock said that the fire department had already responded to one fire that destroyed one of the buildings there in 2013.
City council members wanted a more thorough assessment of the facility and cost of repairs before agreeing to the purchase when they tabled the plan in May.