Will County adds electronics recycling options for 2017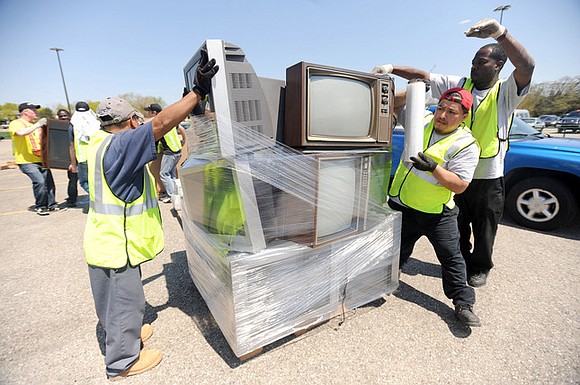 Following the closure of its recycling drop off locations in 2015, Will County continues to rebuild its electronics recycling capacity for residents.
The county board recently approved the addition of two more 1-day recycling events that will take place in 2017.
The board approved a 1-day event to coincide with New Lenox' Sharefest that will take place in the fall this year. The agreement also commits to recycling events in New Lenox from 2018 through 2020.
In addition, the county board also approved a 1-day event that will be held in coordination with Kendall County this year. Residents will be limited to two televisions for the event. Residents in the western fringe of Joliet live in Kendall County.
The county once maintained 13 permanent drop off sites before its recycler cancelled its contract forcing their closure in late 2015 .
The state legislature passed the Electronic Products Recycling and Reuse Act in 2012 making it illegal for Illinois residents to toss old electronics into the trash.

At the time, the law cited the nearly 3 million tons of electronic waste that was being produced each year and the relatively small amount that was being recaptured for reuse. Electronics in landfills also posed an environmental concern with the possibility of lead, mercury, cadmium, hexavalent chromium leaching into the soil.
County residents recycled about 4.5 million pounds of e-waste in 2015 according to the Will County Land Use department which began operating a series of recurring monthly drop off sites in 2016 as well as one permanent drop off site in Lockport.
In addition to the new drop off sites, other communities have started curbside collection of electronics waste including Plainfield, Shorewood, Mokena and Bolingbrook.
Will County recurring electronic recycling sites:
City of Joliet
• Location: Parking lot across from the Will County Jail near Marion and Ottawa Streets
• Hours: 2nd and 4th Tuesday each month from 5-7 p.m.
• Residents must show ID
• Limited to 2 TVs per vehicle
City of Lockport (weekly)
• Location: 17112 South Prime Blvd
• Hours: Tuesday and Friday from 6 a.m. to 11 a.m.
• Residents must show a driver's license
• Limit of 2 TVs per vehicle
New Lenox Township
• Location: 1100 S. Cedar Road

• Hours/Dates: 2nd and 4th Wednesday each month from 5 p.m.-7 p.m.
• ID required
Village of Romeoville
• Location: 615 Anderson Dr.
• Hours: first and third Tuesdays from 5 p.m. to 7 p.m.
• Residents must show a driver's license
• Limit of 2 TVs per vehicle
Like Us On Facebook, Follow Us On Twitter