Irene King Elementary School hosts McTeacher's Night
11/2/2017, 10:06 a.m.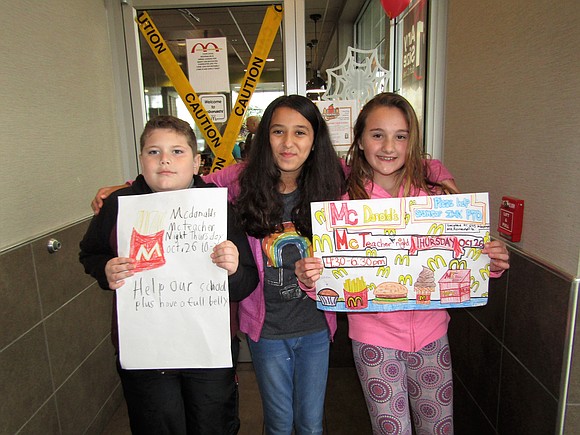 Irene King Elementary School in District 365U held its annual McTeacher's Night on October 26th, at the Romeoville McDonald's and hit it out of the park.
A McTeacher's Night is organized to help raise money for local schools by having teachers and staff work at McDonald's and then giving a percentage of the night's sales back to the local school.
On October 26th, the restaurant was taken over by teachers and staff members from Irene King that were excited to serve freshly prepared meals to students and their families.
Twenty-One teachers/staff worked from the school including Principal April Vacik and Assistant Principal Patti Chow. The McTeacher's jobs included greeting guests, cleaning the lobby, working the front counter, serving drinks, clearing tables, making ice cream cones, selling apple pies and even dressing up as an apple pie.
Irene King staff added some extra fun to their mcTeacher's Night by having Three special surprises to be raffled off at the end of the night. The students had so much fun putting their names in the buckets for a chance to win one of the items being raffled.
A special shout out to music teacher David Rice and his music students that sang many songs during this event that included several Halloween Themed Songs. They all sounded amazing and the kids had a blast singing every song.
A Special thank you goes to Teacher Danielle Allen and School Nurse Liz Girard, who volunteered to dress up as an apple pie the entire night while families donated funds for their own delicious pie! Thank you to Principal April Vacik who organized the entire event as well as every staff member that donated their time to make this a successful event for Irene King Elementary School.
Irene King Elementary School plans to use the $810.00 raised to help pay for educational field trips for their students.
The McTeacher's Night was courtesy of the Romeoville McDonald's Owner/Operator, Marvin Spence. Like us on Facebook at https://www.facebook.com/pages/McDonalds/198697763805443