Joliet school celebrates national principals month
11/2/2017, 9:17 a.m.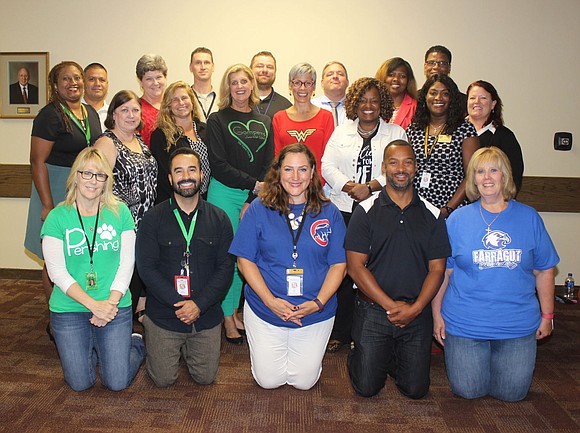 The Joliet Public Schools District 86 Board of School Inspectors recognized the month of October as National Principals Month. The month was an opportunity to thank the principals for the hard work they do on a daily basis to ensure student success at their schools. District 86 Principals include: T.E. Culbertson Elementary: Larry Tucker; M.J. Cunningham Elementary: Luis Gonzalez; Eisenhower Academy: Wendy Wolgan; Farragut Elementary: Brenda Reiter-Gorman; Forest Park Individual Education (I.E.) School: Jacob Darley; Thomas Jefferson Elementary: Christopher Latting; Edna Keith Elementary: Casonya Henderson; A.O. Marshall Elementary: Lisa Marie Moreno; Marycrest Early Childhood Center: Penny Greenwood; Pershing Elementary: Pam George; Sator Sanchez Elementary: Maria Arroyo; Carl Sandburg Elementary: Saundra Russell-Smith; Isaac Singleton Elementary: Tony Villagomez; Taft Elementary: Joy Hopkins; Lynne Thigpen Elementary: Kimberly Gordon; Thompson Instructional Center: Ann Keane; Woodland Elementary: Carol Paul; Dirksen Junior High: Markisha Mitchell; Gompers Junior High: Constance Russell; Hufford Junior High & IE Program: Kyle Sartain; and Washington Junior High & Academy: Rolland Jasper.