Legislator pushes to curb sexual harassment in Springfield
11/2/2017, 8 a.m.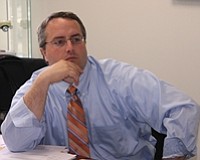 Lockport - In the wake of continued reports of sexual harassment in
Springfield, state Rep. John Connor, Lockport, is supporting new legislation that
would require elected officials, lobbyists and legislative staff to participate in
regular training sessions aimed at curbing sexual harassment.
Connor is supporting Senate Bill 402, which will require every legislator, staffer
and lobbyist to complete an annual sexual harassment training program. Lobbyist
businesses will also be required to create and enforce their own internal sexual
harassment policies, similar to what legislative staffs are already required to have
in place. Additionally, Connor is sponsoring House Joint Resolution 83, which calls
on individuals involved in Illinois politics to reject harassment and work to put an
end to it.
"This isn't just a problem in Springfield, this is a serious problem that needs to
be fought against in every community and in every industry," Connor said. "I
encourage businesses and organizations across the state to review the policies they
have in place, and to make sure that they are enforcing the issue and removing
individuals who are perpetrating these acts."