Oaks Behavioral Hospital gets underway
11/2/2017, 9:35 a.m.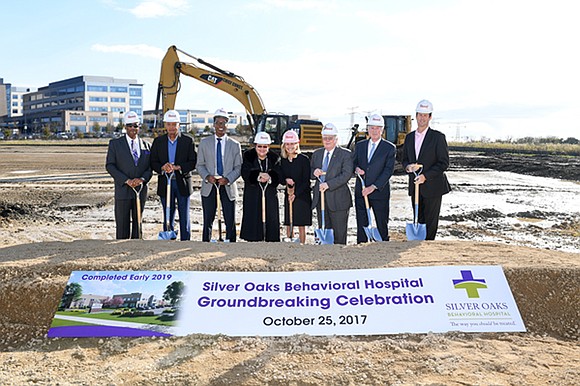 Silver Cross Hospital and US Health Vest broke ground on a planned 100-bed behavioral health hospital on the Silver Cross Campus October 25.
The psychiatric hospital will expand inpatient and outpatient services for mental health and substance abuse issues in Will and Grundy counties.
"Silver Cross is dedicated to meeting the mental health and substance abuse needs in this community," said Ruth Colby, President and CEO of Silver Cross Hospital. "The leaders of this village and county care deeply about the quality of life for the
people who reside here. With our partner, US HealthVest, this behavioral health
hospital will provide expert mental health and substance abuse services for everyone who needs it."
US HealthVest has a proven track record of working with existing medical providers
to expand psychiatric and substance abuse services and access to care. US HealthVest operates Chicago Behavioral Hospital, a 138-bed psychiatric hospital in Des Plaines, IL. US HealthVest also operates two psychiatric hospitals in Atlanta, a psychiatric hospital near Seattle and is in the process of developing several more psychiatric hospitals across the country.
"We have a common interest in that we accept all patients without regard to
insurance or lack of insurance," said Dr. Richard Kresch, psychiatrist and President
and CEO of US HealthVest. "So no patient in need of care, who meets admission
criteria, will ever be turned away from this hospital."
Will County Executive Larry Walsh said, "This is a life-saving facility for Will
County. It's going to be able to provide the needs for a number of our residents."
"There are so many people that are faced with mental health or dependency issues,
and it's a lot easier to bury your head in the sand, but it happens in this
community. This facility is what we need to help combat those issues," said New
Lenox Mayor Tim Baldermann.
The 2-story, 68,000 sq. foot hospital is expected to be completed by early 2019. The
secured facility will be located on approximately 5 acres of land on the west side
of Silver Cross Hospital's campus at I-355 and Route 6. Updates will be available at
www.silvercross.org.
Urgent need for mental health services
One in four Americans across the country suffer from a mental health condition.
According to the 2016 Will County Community Needs assessment, mental health has been identified as the top unmet need year after year. Area emergency rooms and jails are filled with people waiting for placement. In fact, 70% of healthcare providers surveyed said they refer people with mental illnesses to local emergency departments because of access issues. With the closing of the Tinley Park Mental Health Center in 2012, there has been a shortage of beds forcing more than 60% of mental health and chemically dependent patients to leave the area for care. Because of these gaps in service, many have gone without treatment leading to the increase in addictions to opiates, heroin and alcohol in our community. Yet, despite massive community outreach efforts, heroin claimed the lives of 70 victims in Will County last year alone.