In Our Own Backyard: In fantasy football, the future is female
Kay Bolden | 11/2/2017, 9:01 a.m.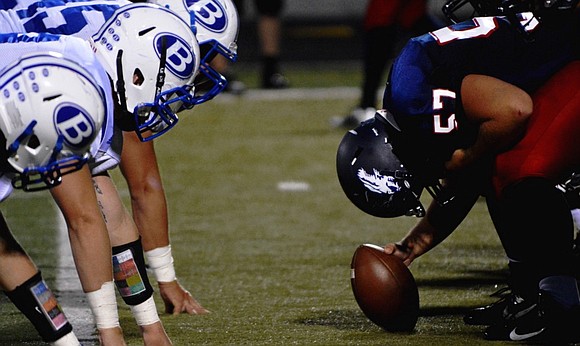 I never watched football growing up. A brute's game, my dad would say. Baseball — that's a thinking man's game. I spent half my childhood watching classic baseball with him at Comiskey Park. (Don't mention the words designated hitter to him. Just don't.)
So, five years ago, when my friends were short a man for their all-male fantasy football league and asked me to play, I laughed. Football? Please. It's coarse and dirty and oh-so-beneath me.
But they made me an offer I couldn't refuse — unlimited Jack Daniel's during football season — and I joined up. They hugged me and winked and punched each other's biceps. They named the league the Men of the Night's Watch, like the Game of Thrones geeks they are, and I got ready for the season.
Since I didn't know a quarterback from a quarter pounder, I subscribed to ESPN insider. I joined email lists and listened to podcasts. I called my cable company to add the NFL channel. I spent all of July and August watching classic games and learning plays.
The guys thought I was so cute! If I asked a question about blocking or shotguns or pass interference they'd actually get up and run the play in my backyard! They'd all played in high school or college; they knew the game inside out. They were endlessly patient with all my adorable questions.
Until I started winning.
Until I started beating their superior, blustering little jock tushies on the regular.
"What are you doing?" they cried, trying to convince me to bench Drew Brees because it was a bad matchup. Hah!
"That's not fair!" they whined, when I maneuvered a trade for Gronk.
"She's outta control," they glowered, when I joined 4 other leagues just for fun.
I may be the only woman in this league, but I'm not alone in the ranks. The number of women playing fantasy football has more than doubled since 2007. Women are now one-fifth all fantasy football participants. I know of a dozen all-women leagues, and they're not just fans— they are skilled, hardcore players.
In my first year with the Men of the Night's Watch, I finished a respectable 3rd place. The third year, I just barely missed the playoffs.
The fifth year — last year — I was unstoppable. And finally, I was champion.
The guys handed over my winnings and the trophy. They were kind of proud of me. Also a little ticked off, but whatever. "You can keep the money," I said with a smile. "I want to change the name of the league."
"Absolutely not," they said. "We are the Men of the Night's Watch."
"You're losers," I said. "And that makes you All the Queen's Men."
They're coming after me with a vengeance this year. Like the real game, it's a constant battle for dominance. Who knew I could be so competitive, so determined to win? I sure didn't. Football unleashed my inner Beast Mode. We debate every call, every game, every week. The only thing we all agree on is the players' right to #TakeAKnee.
Here's the current wager: if one of them beats me, they can change the name back to Men of the Night's Watch. But I'm not scared. Bring it on, jocks. (Bring Cam Newton, too. We'll talk routes.)
"You are too loud," my dad— now 84 years old — admonishes while I scream at RedZone. "It's not very ladylike."
I tell my dad not to worry — I still love baseball. Baseball is all rhythm and chords; you have to think, plan, plot, strategize, predict, get lucky, run, hit, throw, catch and think some more, and keep the beat the entire time, all of you, all at once. Is there anything more magical than a perfectly thrown strike?
But I love football, too. This crazy, multi-dimensional choreography of timing, zen and violence. It's like synchronized swimming in a shark tank. It's exhilarating and horrifying and I can't live without it.
Now, you know what I don't get? Basketball. What is that about? I mean, I know you have to put the ball in the basket to score points. But 10 ridiculously tall guys, running in circles and going nowhere? I'm just not feeling it.
But my guys have been talking excitedly about something called March Madness. Not sure what that is, but maybe I should check it out.
Kay Bolden is an author, Times Weekly blogger, youth advocate, community activist and urban farmer on Joliet's southeast side. She'd love to hear your thoughts on sustainable living, economic justice, and how we can all live together on the only planet we've got. Follow her on Twitter @KayBolden or drop her a line at Kay@KayBolden.com.