Romeoville, Joliet Metra station on schedule for 2018 arrival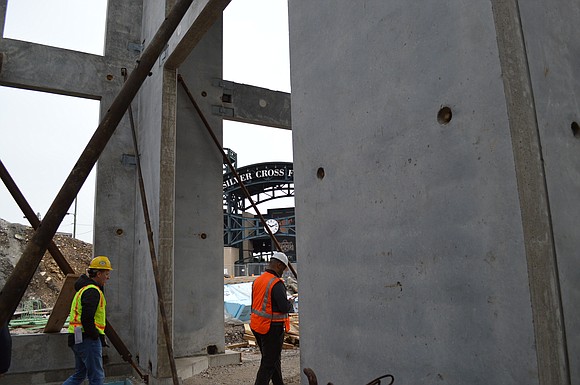 When it opens sometime in early 2018, the new Metra station currently in the final stages of construction in Romeoville will be the first new stop added to the Heritage Corridor Line since 1984.
Romeoville Mayor John Noak said that the village was busy finishing up the new station, near 135thStreet and New Avenue, which would most likely be completed by mid-November. Work was wrapping up on the new lot, structure, new road and lighting for the site.
That will leave work to be completed by Canadian National he said before the station opens sometime early next year. The Romeoville stop will be part of the Heritage Corridor line, which offers service from the City of Chicago to Joliet.
Despite losing some time as the state hashed out a budget, Noak said that the project has proceeded on schedule. The village board will consider a contract with a parking vendor this week, which will include 123 spaces and room for many more.
Unlike other stations along Metra's route, the Romeoville site will have the advantage of being one of the few that isn't landlocked with plenty of room for expansion Noak said. The initial plan according to Noak, was to get the station built as economically as possible and add on as demand requires. "There's room for up to 600 spaces at the site."
"The goal here is to keep it within budget constraints," he added, "We don't want to overbuild it but build as the need is there."
That need seems to be growing especially on the Heritage Corridor line according to ridership figures from Metra. Ridership on the Heritage Corridor trains grew just over 15% when comparing rides in January 2016 and January 2017, which increased from just over 56,000 to 64,000 monthly. Ridership for the last 12 months of 2016 and 2017 showed growth of just over 1.4% adding 10,000 more riders for a total of 726,000 for 2017.
The village funded the bulk of the projected $4.9 million project with funds from the Chicago Metropolitan Agency for Planning's Congestion Mitigation and Air Quality Improvement Grant program.
"It's about as cost-efficient a station as you could ever hope for," said Noak.
"Once it's up and running the advantages will be apparent for village residents who will have another mass-transit option for getting around the region—the village is already a stop for Pace's popular bus-on-shoulder program." The consensus from village officials is that the added connection to mass-transit could also boost future property values and help attract businesses looking for commercial real estate as well as homebuyers looking for easy access to trains or bus routes.
"It really does put you on a different kind of map," said Noak, noting that for residents or companies looking to re-locate "they're attracted to that concept that you have a [Metra] station"
"It also is a benefit to the region as a whole in that the more riders attracted to take mass transit the more it lessens congestion on expressways and surface streets during rush hours."