Silver Cross Offers Health Screenings in November
11/2/2017, 9:55 a.m.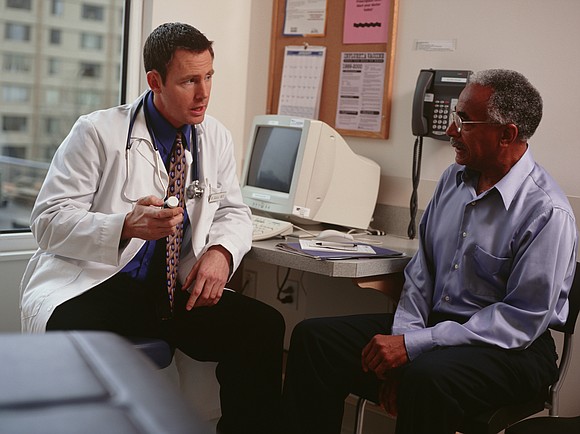 The Rehabilitation Institute of Chicago at Silver Cross' Brain and Balance Clinic offers free Balance Enhancement and Fall Prevention Screenings year round to determine fall risk. The 15-minute screening conducted by a RIC physical therapist includes medical history, blood pressure measurements, balance assessment to identify risk factors, posture, range of motion, strength, static and dynamic balance. Based on the results, therapists provide recommendations to improve balance and reduce risk of falls and/or a referral for treatment. To schedule a screening, call (815) 300-6580.
Baseline Cardiac Risk Assessment
Heart disease is the leading cause of death for both men and women in the United States. If you are not sure if you are at risk for heart disease, now is the time to find out with a Baseline Cardiac Risk Assessment at Silver Cross Hospital, 1900 Silver Cross Blvd, New Lenox. This screening includes measurements of total cholesterol including HDL and LDL levels, blood glucose level, triglyceride level, blood pressure and body fat; and 12-lead EKG. A 12-hour fast is required. Cost is $40. To schedule an appointment, call (815) 300-7076.
Blood Pressure Screening
Silver Cross offers free blood pressure checks daily from 10 a.m. to 2 p.m. at the Silver Cross Health Center, 12701 W. 143rd St., Homer Glen. Walk-ins welcomed. For more information, call (708) 364-6337.
Calcium Artery Scoring

Silver Cross Hospital in New Lenox and the Silver Cross Health Center—Homer Glen offers a quick and painless test using a high-speed CT scanner that can measure calcium deposits in the coronary arteries to determine your risk of having a heart attack. Calcium artery scoring is ideal for men over age 45 and women over age 55 who smoke, have high blood pressure, high cholesterol, or a family history of premature coronary artery disease. This scan is available for $99. Call (815) 300-7076 for an appointment.
CT Low Dose Lung Cancer Screening
Smoking is a major risk factor for developing lung cancer. The U.S. Preventative Task Force recommends annual screening in adults age 55 to 77 years old who have smoked at least a pack a day for 30 years, current smoker, or have quit within the last 15 years and in relatively good health. Silver Cross Hospital in New Lenox now offers a quick, painless, non-invasive low dose CT scan which can detect nodules or spots on the lung which might be early indicators of lung cancer. It takes just one-minute to have a scan which can potentially save a life. Screenings are covered by Medicare and most insurance plans. To schedule an appointment at Silver Cross Hospital, call (815) 300-7076 with a physician's order.
Incontinence Risk Assessment
Bladder control issues are not a normal part of aging and they are not something women should have to live with. Take control of your pelvic health by completing a Sliver Cross Hospital's short quiz at www.silvercross.org to find out if it is time you reached out for help.
Postnatal Physical Therapy Screenings
The Rehabilitation Institute of Chicago (RIC) at Silver Cross offers free Postnatal Physical Therapy Screeningsfor women six weeks to one-year post-delivery and are experiencing pelvic or perineal pain, urinary or fecal incontinence, pelvic organ prolapse or separation of the abdominal muscles. Screenings take place RIC's facility in the Silver Cross Health Center, 12701 W. 143rd St., Homer Glen. During the 15-minute exam, the new mom's birthing history and current problems will be reviewed. Posture, core and pelvic strength will be screened. To schedule a confidential appointment, call (815) 300-6288.
Sleep Disorders Assessment
Having trouble sleeping? Silver Cross Sleep Disorders Center offers a free online risk assessment at www.silvercross.org/sleepdisorderscenter.
Stroke Risk Assessment
Each year, nearly 800,000 Americans suffer a new or recurrent stroke. That means on average, a stroke occurs every 40 seconds. Find out if you are at risk and what you can do to prevent a stroke from occurring by taking the Silver Cross Neuroscience Institute's free stroke risk assessment at www.silvercross.org/neuro.