Slammers double the holiday giving
11/2/2017, 7:54 a.m.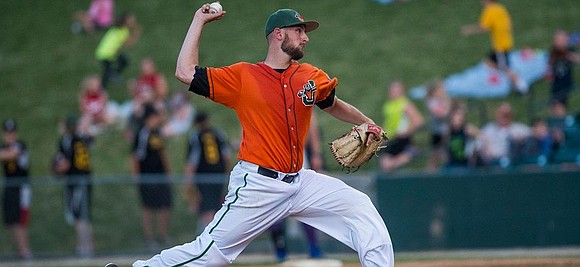 Joliet - The Joliet Slammers presented by ATI Physical Therapy are
hosting two holiday drives this season. In conjunction with Rotary District
6450, the Slammers kick-off November by participating in Chicagoland Rotary
Veterans Coat Drive. The Slammers annual Holiday Open House and toy drive
for the Boys and Girls Club of Joliet will follow in December.
The Slammers are asking the community to help provide winter coats for over
1,000 homeless veterans in the Chicagoland area as they gear up for the
harsh winter months ahead. New or clean and gently used men's winter coats
are being requested, sized large, X-large, XX-large and up. Coats are
needed in larger sizes as veterans layer their clothing for the winter.
The coats will be delivered on November 17 for Stand Down Day – a special
day held at Humboldt Park Armory in Chicago for homeless veterans in which
they receive support from many health, social service, and community
support organizations. The Chicago event is organized and staffed by
volunteers from veteran organizations, community and social services
organizations, Hines VA and Jesse Brown VA.
Donations can be brought to the Joliet Slammers main offices at 1 Mayor Art
Schultz Drive Monday through Friday between 8am and 4 pm. Donations are
needed by Monday, November 13. For every coat donated, community members
can earn a raffle entry into the Slammers 2018 suite giveaway.
In addition to the coat drive, the Slammers have set a date for their
annual Holiday Open House. On Saturday, December 2 from 10 am to 1 pm the
community is invited to join the Slammers for refreshments, snacks, and
games. There will be kid-friendly activities such as a card making station
for the troops and sugar cookie decorating. Santa Spikes will also be in
attendance for photographs.
Attendees are encouraged to bring a toy to be donated to the Boys and Girls
Club of Joliet. Anyone that brings a toy to the open house will be entered
to win a luxury suite for the 2018 season.
Slammers merchandise will also be on sale up to 50% off select items for
the holidays. Merchandise can be purchased during the open house or during
the Slammers normal business hours Monday through Friday 8 am- 4 pm. Sales
will run through December 8.
The open house will be held in the Slammers Hall of Fame Room located at
the Slammers stadium off of Jefferson Street. For more information, call
the Box Office at (815) 722-2287.
The Joliet Slammers presented by ATI Physical
Therapy play at the Slammers Stadium downtown Joliet, Illinois, and are
members of the professional, independent Frontier League. The Frontier
League is a 12-team league entering its 26th season of play in 2018.