Rauner touts Will County logistics jobs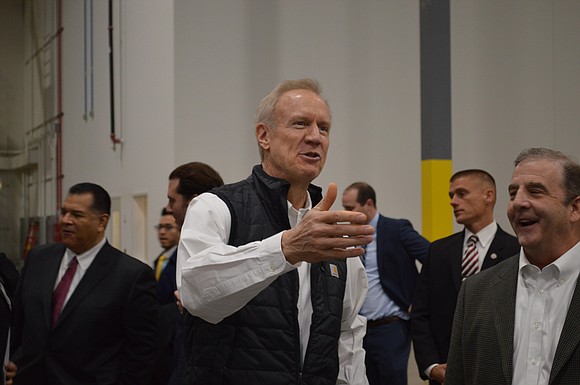 When it's fully built out in 20 years, the RidgePort Logistics Center in Will County could employ just under 13,000 people on a campus of warehouse spaces covering up to 30 million square feet.
Illinois Governor Bruce Rauner was in Wilmington on Tuesday for a ribbon cutting to officially open space where General Mills will operate a 1.5 million square foot warehouse at 30131 Ridgeway Blvd. When it opens in January 2018, the facility is expected to create about 150 of those anticipated jobs.
Ridgeport joins a growing portfolio of logistics, shipping, and warehouse spaces dotting the landscape in southwestern Will County, including the CenterPoint Intermodal facility in Joliet, that are driving business expansion and job growth.
State Senator Sue Rezin who represents the 38th District which includes the new Wilmington facility said that warehouse site and many like it in Will County "show the importance of logistics as an economic driver for the state of Illinois."
Mike Nordstrom, Vice President of Global Workplace Solutions, for General Mills said that the new facility will allow the maker of Cheerios and other breakfast cereals to "serve customers around the world" from its new Will County location. In addition to the location serving as a "key customer service location" he also noted that he expected the facility to be LEED certified for its energy efficiency.
Michael Stellino, Director of Development for facility owner Elion Partners said that in addition to creating about 13,000 jobs, the development would work to provide options for employees and truck drivers coming to the site to live healthier lives with full service health care onsite, wellness programs, health option eateries and bike sharing.
He said that it was Governor Rauner's "business mind set, and pro biz mantra" that encouraged the Florida-based company to purchase the property.
When asked afterward about the source of the job creation numbers, Kaylee McCall Correa, Corporate Communications Manager for Elion Partners, cited an economic impact study that was completed that shows "Employment will grow from more than 1,700 persons by 2018 to 12,655 jobs in total, by buildout at 2035," she said in an email.
Rauner touted the potential job creation at the site and also said that it would be responsible for creating about 40,000 more "indirect jobs" though he didn't elaborate where that estimated number originated and didn't have time for questions after the event.
"We are the center of transportation, distribution, and logistics for the entire North America right here," said Rauner who cited the largest inland intermodal port in Elwood as well as close access to transportation as key ingredients in the area's ongoing logistics success.
"We are kicking tails in transportation and logistics because we've got the people," said Rauner who advocated for lighter business regulations and "reasonable" tax burdens that would create a business environment that would go "from growing to booming."