Slammers Stadium renamed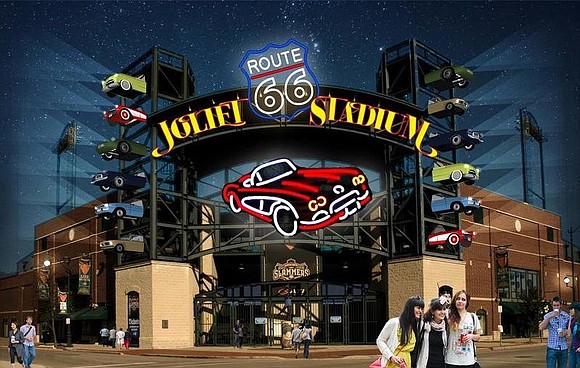 The Joliet city council has voted to approve a name change for its minor league ballpark.
In a nod to its roots along the former cross country highway, the field will be renamed "Joliet Route 66 Stadium."
The field's naming rights deal with Silver Cross Hospital expired in 2016 however the name still hangs above the entrance. City Manager Martin Shanahan on Monday said he didn't have a timetable for when the Silver Cross signage would be removed.
Shanahan explained that when a new naming rights deal is inked it will be for the field name while the stadium name will remain Joliet Route 66 Stadium. This would be similar to the method for naming rights used at Joliet Memorial Stadium, which includes the sponsor name "ATI Field at Joliet Memorial Stadium."
Probably best known colloquially as Silver Cross Field or "Slammer's Stadium" after the name of the minor league team that plays there, city documents outlining the name change refer to it only as a "multi-purpose stadium" as it moves to expand the uses for the stadium beyond just baseball.
In September, the city approved the investment of $1,889,922 for upgrades to the stadium including the installation of artificial turf that will make the field more versatile for use for other sports including soccer, La Crosse as well as concerts and other non-sports uses.