Troy basketball teams win
11/9/2017, 8:20 a.m.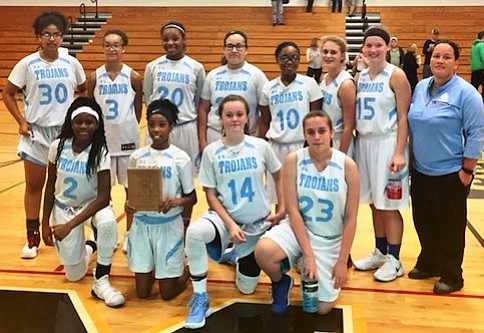 Two girls' basketball teams from William B. Orenic Intermediate School and Troy Middle School, both in Troy Community School District 30-C, took first place honors at recent tournaments, and a third district team took second place.
The 6th grade WBO team, which includes some 5th graders, placed 1st place at the Joliet Central Basketball Tournament, with coaches Matt Stortz and Alex Pokorny.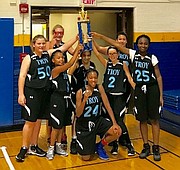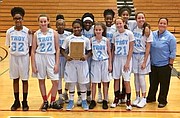 The TMS 7th grade team took 1st place, and the TMS 8th grade team took 2nd place at the Marian Catholic Tournament. Coaches are Mark Peter and Serena Cruz.
Fifth and sixth grade players on the teams are Tierra Abner, Natalie Bartelt, Samantha Byrne, Avery Houlihan, Christina Keoborakat, Madison Krummick, Sydney Lukancic, Brooke Schwall, Armani Seay, Natalie Young, Maziah Shelton, Serena Ruiz, Calvaunah Hayes, Zion King, Kelcie Rainey, Meghan Schwall, Lilyana Taylor, Aniela Machalski, Jaclynn Palomino and Lizbeth Pensado.
Seventh and eighth grade players are Melle Slager, Ashlei Thomas, Jasmine Brown, Janiyah Jones, Andie Burch, Grace Morrow, Lisa Thompson, Kaylen Coggins, Jayleen Sanchez, Akaisha Watson, Caiside Snapp, Laila Gibson, Ella Pfanenstiel, Grace Walsh, Clare Athern, Marlena Smith, Gabriella Olson, Daniela Chavez, Shyanne Dohney and Alexis Mines.