Will County Clerk looking for Election Day technicians
11/13/2017, 10:22 a.m.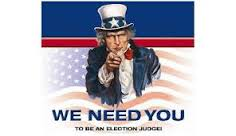 Will County Clerk, Nancy Schultz Voots is currently recruiting field technicians for upcoming elections in Will County.

"Field technicians are my eyes and ears on Election Day. As hands-on participants in democracy, they ensure our elections run smoothly, are administered fairly, and in accordance with the law," said Schultz Voots in a statement.
Field technicians earn $210.00 plus mileage for working on Election Day.

All interested applicants must be a U.S. citizen, a registered voter, have a technical background, which includes but not limited to fixing a router, changing a hub, being able to use a tablet, and problem solving other connectivity issues.

In addition, they must have access to a Smartphone and a reliable car on Election Day. Field technicians cannot be an elected official, precinct committeeman or a candidate on the ballot for any office.
If interested, email electionfieldtechs@willcountyillinois.com. Make sure to visit www.thewillcountyclerk.com for more information about upcoming Elections and the Will County Clerk's Office.