School of Rock Broadway In Chicago thru Nov. 19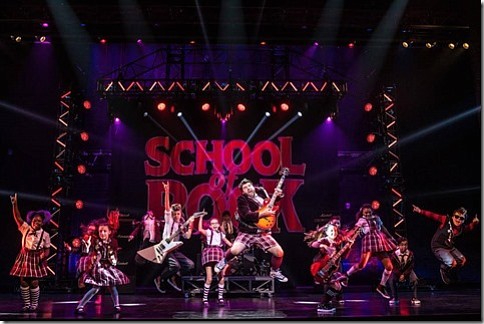 You almost don't want this delightful, upbeat musical to go away, its so perfect for a family-friendly fun night of theatre. Especially when audiences are about to be flooded with Holiday treacle for the foreseeable future, its a Godsend that Broadway In Chicago's School of Rock breezed into the Cadillac Palace through Nov. 19. Irving Berlin's classic White Christmas takes over the stage from Nov. 21 through Dec. 3. For information visit BroadwayInChicago.com.
The high voltage cast, filled with stellar supporting players and a truly terrific cadre of kids is headed by Second City and Columbia College of Chicago grad Rob Colette, who plays Dewey Finn, a slacker and wannabe rockers, crashing in the basement of his ultra-nerdy former bandmate Ned ( New York thespian Mat Bittner of the Tony nominated Broadway play Present Laughter and other off-Broadway productions)., and his girlfriend Patty ( Emily Borromeo, who starred in the same role on Broadway and served as writer/host of Sproout/NBC's Sunny Side Up and on the Jim Gaffigan Show, among other TV credits). Dewey has a hard time coming up with the rent or any money whatsoever to take care of the basics of living. Once he gets wind of a long-term substitute teaching job intended for Ned at the exclusive Horace Green Academy, he assumes Ned's identity and quickly transforms the willing group of gifted students from classical music, at which they excel, to his favored form of expression, Rock. The students, led by a delightful Ava Biglia as Summer, who has Broadway credit as the star of Matilda The Musical, are challenged by an upcoming music competition, which provides the dramatic impetus for the play. She is his sparkling find in the class who becomes the project's 'manager.' The dramatic tension in the superbly crafter musical with a book by Julian Fellowes (the creator, writer and Executive Producer of the worldwide runaway hit TV series Downtown Abbey and Tony nominee for School of Rock), lyrics by the Oscar, Grammy and Tony Award winning Glenn Slater (Disney's Tangled, Sister Act, The Little Mermaid) and new music by the legendary Andrew Lloyd Webber. Most notable amonf the supporting cast is the principal. Rosalie (Lexie Dorsett Sharp (National/International tours : Young Frankenstein, The Addams Famiiy) who is forever of the verge of uncovering Dewey's identity and derailing his and the kid's plans for Rock school Hall of Fame success. Now through Nov. 19. Visit BroadwayInChicago.com.