Plainfield agrees to $5 million Park-N-Ride for commuters
Madhu Mayer | 11/21/2017, 12:38 p.m.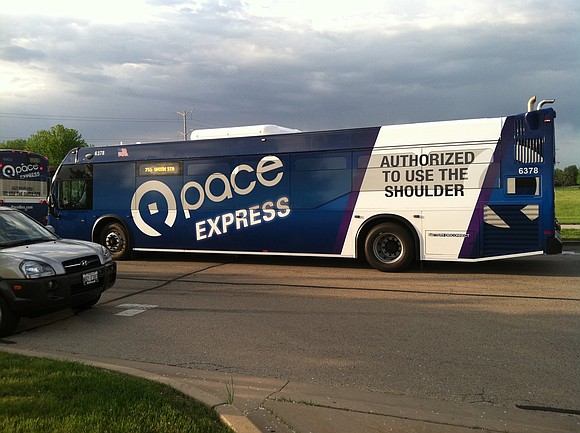 The Village of Plainfield is finally moving ahead with plans to construct a park-n-ride facility to serve Pace bus customers who commute for work to downtown Chicago.
The board on Monday adopted a resolution rezoning the vacant farmland property east of Van Dyke Road south of 143rd Street from the current single-family residential district to I-1, or office, research and light industrial district. The plan is to subdivide the 62.7-acre parcel into four lots with one lot used for the Pace park-n-ride facility, two other lots for future developments and the remaining transformed into a public right-of-way.
Right now, commuters park in Plainfield Village Hall and nearby streets prior to boarding the bus every morning. But the intergovernmental agreement approved earlier this year by the Board with Pace calls for a non-exclusive license to buy 58 acres of unimproved village-owned property on Van Dyke Road adjacent to EJ&E Railroad to build the park-n-ride facility.
Village Administrator Brian Murphy said the Pace project will cost $5.8 million, of which $1 million is for engineering. Construction costs include drainage, signage, lighting pavement markings, sanitary sewer, a 1,000-square-foot shelter with restrooms and water main work. Terms of the agreement states that Pace will reimburse the village for all design, engineering, construction oversight and construction costs of the facility, in an amount not to exceed $5.8 million.
Once constructed, the park-n-ride facility will accommodate up to 600 parking spaces, passenger shelter and bus canopies. Pace and the village also envision the construction of a Pace bus garage on the property in the future, Murphy added.
Yuchen Ding, associate planner for the Village of Plainfield, said the hope is to better serve the transportation needs of residents who don't want to be stuck in traffic on I-55 everyday as they commute to and from work.
"The potential increment of ridership could possibly encourage Pace to improve the bus schedules and routings for Plainfield in the future," Ding said.
Traci Pleckham, director of management services for the village, said she does not foresee a problem with Plainfield fronting the money as the municipality has around $8 million in its capital fund. The project is contingent upon Pace's receipt of funding approval and any other required approvals from the Pace Board of Directors and/or the Regional Transportation Authority.