Joliet Central's Eural "Mac" McLaughlin to receive wrestling award
10/4/2017, 3:47 p.m.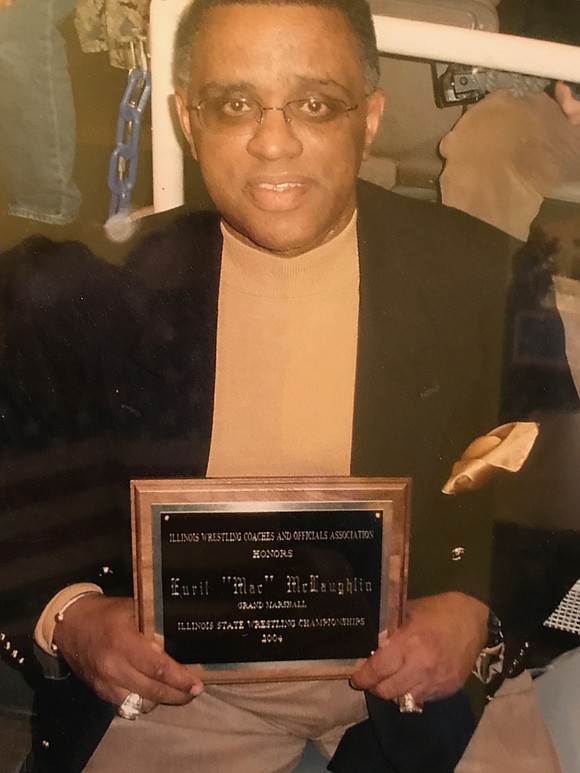 Joliet Central High School's Eural McLaughlin, fondly known as "Coach Mac," carries
a legacy amongst generations of students, alumni and families.
Mac's legacy carries as a Lifetime Achievement Award recipient from the
National Wrestling Hall of Fame Illinois Chapter. The Lifetime Achievement Award
will be presented to Mac during a special Honors Banquet at 3 p.m. on Sunday,
October 22 at the Holiday Inn in Countryside, 6201 Joliet Road.
A graduate in the top 10 percent of his class from Chicago (Dunbar), Mac McLaughlin
earned varsity letters in football, wrestling, baseball and track. He was a state
qualifier in wrestling his senior year.
Mac went to North Central College in Naperville and graduated in 1964. He won
varsity letters in football, wrestling and baseball. He was named to the North
Central College All-Century Football team in 1998 as a defensive back. He was also
inducted into North Central's Hall of Fame. Mac went on to play one year of
professional football in the Canadian Football League with the Saskatchewan Rough
Riders.
In 1966 Mac began his teaching and coaching career at Joliet Central High School.
He earned the name Coach Mac once he was hired as Physical Education instructor,
dean and coach. He has coached both male and female sports as a head coach or an
assistant coach during his 43 years in education. He was the head football coach
for Joliet Central from 1986-1988 and the head badminton coach for Joliet Central
for the 1976 season. In 2000 he served as an assistant coach for Joliet Central's
State Championship softball team.
Coach Mac was the head wrestling coach at Joliet Central from 1970 to 2010. He was
inducted into the IWCOA Hall of Fame in 1991.
During his tenure as head coach for Joliet Central and Joliet Township Mac has
accomplished the following:
• Over 500 dual meet wins (507-192-9)
• 6 Conference Championships
• 1 Dual Team State Championship (1985)
• 5 additional top ten state finishes
• 7 individual state champions
• 8 individual state finalist runners up
• 34 total individual state place winners
• 108 state qualifiers
Mac has also worked as a state tournament bench official since 1996. He was named
IWCOA Coach of the Year in 1985 and in 2004 he was selected to serve as Grand
Marshal at the IHSA Individual State Championships.
"This is quite an honor, and something you dream about," said Mac. "My family is
extremely proud and they deserve this as much as me for understanding the long
nights and weekends I spent coaching."