2018 Kia Rio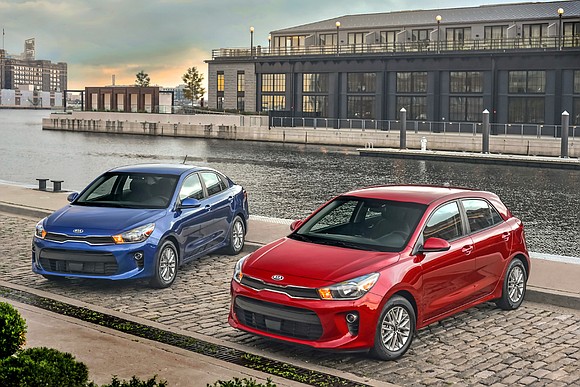 The 1.6-liter four-cylinder engine was not new but Kia said it had been enhanced for better fuel efficiency and better responsiveness and low speed driving dynamics. It had a high-pressure fuel system with direct injection, variable intake system, low-friction oil seals, and piston cooling-jets. It made 130 horsepower and 119 pound feet of torque at 4,850 rpm.
This engine could be mated to a Rio with a six-speed automatic or a six-speed manual transmission. We had the automatic. There was some oomph. At about 45 mph I pressed the accelerator toward the floor and the engine revved and the car moved forward gaining speed along the way. You'd be surprised how many vehicles just do the first half of that scenario. The car had a fuel rating of 28 mpg in the city, 37 mpg on the highway and 32 mpg combined.
The Rio rode well and handling was pretty good. Kia used a new platform that was a bit bigger than the chassis used for the previous generation. For a better driving experience and better handling, Kia engineers employed an independent MacPherson strut front suspension and a torsion beam rear axle.
They revised the springs and dampers, added 11-inch disk brakes up front and drum brakes in the rear. High strength steel increased durability, collision performance and torsional stiffness. NVH was also improved. And the Rio for the first time had available autonomous emergency braking.
Base price for the LX sedan is $13,900, for the five-door hatch it is $14,200. The S trim line starts at $16,100 for the sedan and it is $16,400 for the hatch. And the EX starts at $18,400 for the sedan and its $18,700 for the hatch.
That is not a bad buck for a nicely equipped first time buyer car or for a nice little urban run-about for veteran drivers.
Frank S. Washington is editor of AboutThatCar.com.