Election judges needed
10/12/2017, 9:45 a.m.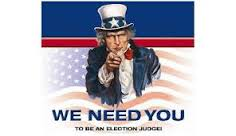 In preparation for the March 2018 primary election, Will County Clerk, Nancy Schultz Voots said she is recruiting election judges.

"Election Judges play an important role in the voting process.," said Schultz-Voots in a statement.
"As hands-on participants in democracy, they ensure that our elections are administered fairly and in accordance with the law. We simply couldn't have an election without their dedication and commitment," she said.
Judges will be responsible for the proper and lawful conduct of the election at each polling place during the March 20 election.

They can earn $150.00 for each election contingent upon attending an election judge training class and additional pay can be earned by taking on extra responsibilities.

All interested applicants must be a U.S. citizen, a registered voter or a high school senior in good-standing.

In addition, they must be able to speak, read, and write the English language along with being skilled in the fundamental rules of arithmetic. Election Judges cannot be a precinct committee person or a candidate on the ballot for any public office.
To find out more information on serving as an election judge, visit the county clerk website, www.thewillcountyclerk.com.