53rd Chicago International Film Festival capsule
Phyllis Dreazen – ent@thetimesweekly.com | 10/19/2017, 8:03 a.m.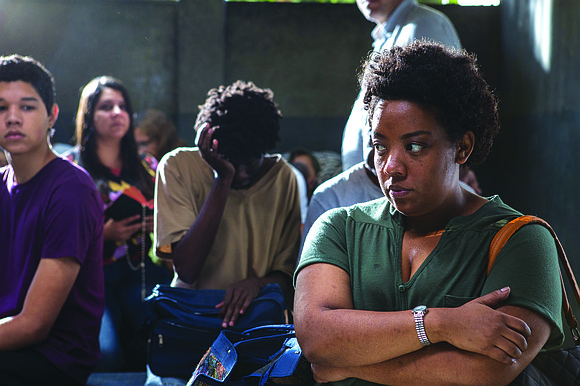 What's Playing?
If you've ever wanted to travel to other countries but haven't had an opportunity or the finances, the Chicago International Film Festival is a great way to see films from around the world. Moviegoers can get a glimpse of the culture and people through the different stories told through the lens. The festival is going on now through Thursday October 26 at AMC River East 21, theater 322 E. Illinois Street, Chicago, Illinois
Tickets are $15 for regular screenings with discounts for Cinema/Chicago members, students, seniors and $10 after 10 p.m. $8 Weekly matinees through 5 p.m.
For more go to chicagofilmfestival.com
PARIS SQUARE ( Director: Lucia Murat Brazil/Argentina)
Fear and paranoia in a relationship between two people with different social classes and backgrounds is true in this film and life. At a Brazilian university that had a therapy center for the poor, usually attended by young students in the master's or senior year of psychology, some young women began to develop a chronic fear of the "poor" when dealing with the descriptions of violence reported by their patients, in a clear process of countertransference. That was the case between Camila, a psychotherapist, and her patient, Gloria, who has grown up in a favela, was abused by her father and whose brother is a drug kingpin working out of his jail cell. As Camila's terror takes over her life, unable to help, she causes catastrophic harm. Thurs, 10/19@1:30PM
THE SQUARE (Director: Ruben Ostlund Sweden/Germany/France)
Claes Bang is Christian, head curator of a very fancy avant-garde art museum, in this hilariously biting satire of the fine art world. Christians's life begins to go off the rails when his wallet and documents are pick-pocketed. That likely explains his attention to a media campaign that goes viral and inspires him to offer his resignation. This is Palme d'Or winner cloned with Laurel and Hardy.
FACES PLACES (Directors: Agnes Varda, Jr., JR France)
May we all, at 88, be as creative, witty, wise and open as Ms. Varda (or Verdi, who wrote Falstaff at 80).
The much honored Belgian directress teamed up with street photographer JR to capture images of people of all ages and backgrounds they encountered traveling the length and breadth of France. Some were faces only, some whole bodies; some were single, some groups. Then, all were enlarged to more than life size and attached to their backgrounds, as, for instance, the people who once lived in a block of row houses, now empty. Or the farmer whose face now graces the front of his barn.
NEVER STEADY, NEVER STILL (Director: Kathleen Hepburn Canada)
Advanced Parkinsons is a challenge in a place where people and resources are relatively easy to access; it is exponentially more difficult in a rural setting such as the one, in British Columbia, in bleak, cold, snowy winter. Judy (Shirey Henderson) struggles to stay independent, especially when her husband and support dies suddenly and their son (Jamie) is far away working in the oil fields. Jamie comes home for the funeral and he and his mom struggle with their issues, hers physical, his emotional. Thurs, 10/19@8:30PM; Fri, 20/20@noon.