Rev. Jesse Jackson, Sr. calls for "full-scale" boycott of BMW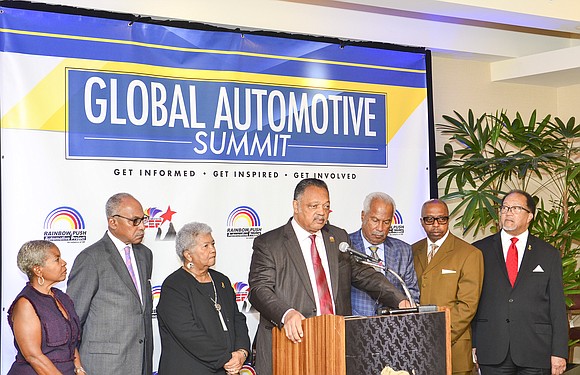 Reverend Jesse Jackson, Sr., the founder of the Rainbow PUSH Coalition, called for a "full-scale" boycott of BMW, the German automaker, for refusing to reply to the survey for the group's annual diversity scorecard.
Not only did BMW refuse to complete the survey, the German automaker also refused to meet with the civil rights leader.
Jackson made the announcement, during a press conference at the 2017 Rainbow PUSH Coalition Global Automotive Summit.
"The diversity scorecard was developed in 2012 to provide a snapshot of each manufacturer's success at building and sustaining ethnic diversity and inclusion, with a primary focus on people of color," the survey's report said.
Jackson said that he met with all of the automakers that participated in the survey.
The diversity scorecard participants included: Ford Motor Company; Toyota Motor North America; General Motors; Nissan North America; Hyundai Motor America; Fiat Chrysler Automobiles; Honda North America; Subaru of America; Kia Motors America; Mercedes-Benz USA and Volkswagen Group of America.
The automakers answered questions about employment, advertising, marketing procurement, minority dealership opportunities and philanthropy.
The auto companies that reflected best practices for ethnic diversity established by the Rainbow PUSH Automotive Project, an initiative of the Citizenship Education Fund, earned green scores.
Red marks indicated that diversity initiatives and investments were non-existent, not disclosed, or the company didn't provide enough relevant information for scoring.
Ford and Toyota earned tops scores for employment, advertising, marketing, procurement and philanthropy. General Motors scored green in employment, marketing, procurement and philanthropy.
At the other end of the spectrum, Kia Motors America, Mercedes-Benz USA and Volkswagen earned failing grades in advertising, marketing and procurement and yellow scores, which indicate some progress in diversity, for employment, dealership diversity and philanthropy.
BMW earned red marks in all categories, because they refused to reply to the survey request.
According to Jackson, that refusal showed the company's contempt and resentment towards the Black community.
"We are in a different stage of our civil rights struggle," said Jackson. "The first stage of our struggle was to end legal slavery; the next phase was to end legal Jim Crow; the third stage was the right to vote."
Now, that the Black community brings money, market share, talent and experience to the table, Black businesses should be seen as partners, Jackson said.
"We trade for with you, you trade with us," said Jackson. "There is more to the car than the ride."
The civil rights leader called for "a full-scale boycott of BMW" until the company agrees to meet with the Rainbow PUSH Coalition and works out "a mutually beneficial trade relationship."
Jackson said that Blacks account for more than 10 percent of purchases of the company's luxury models.
According to a 2014 poll by Strategic Vision, a research and consultant firm based in San Diego, Calif., BMW was the brand that was most often cited as a future vehicle purchase for African Americans.
"If you have a BMW, we urge you to get another car. If you don't have one, don't plan on [buying one]," said Jackson. "We're saying to the auto industry, 'we've worked too hard and consumed too much, to be locked out.'"
Jackson said that the Black community wants equity, parity and mutually beneficial, reciprocal business relationships across all business sectors, a message that he plans to convey through a partnership with the National Newspaper Publishers Association, a trade group that represents more than 200 Black-owned media companies. NNPA media outlets reach more than 20 million readers in print and online every week.
Freddy Allen is Editor-In-Chief, NNPA Newswire.