Troy Middle School Boys Cross Country Team places 2nd in state
10/26/2017, 9:14 a.m.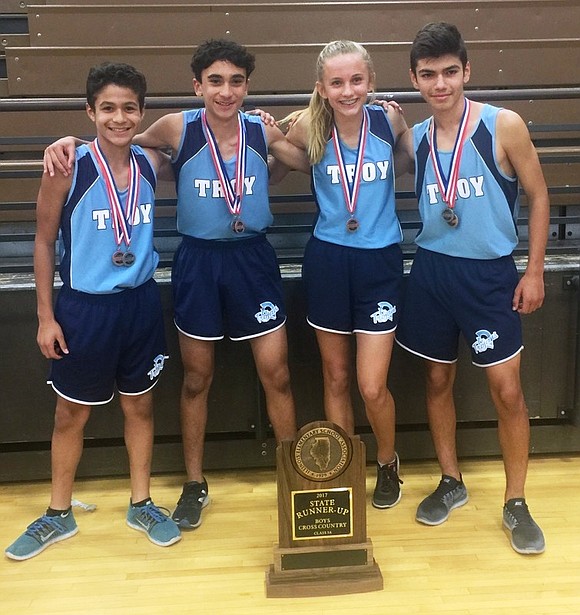 Several TMS Cross Country boys, girls also receive individual medals
The Troy Middle School Boys Cross Country Team placed 2nd in the state at the IESA 2017 Cross Country State Meet, Class 3A. The competition was held October 14 at the Maxwell Park Cross Country State Meet Course in Normal. This is the 11th state trophy the Troy boys team has earned.
The 15 members of the team were Braden Christensen, Gavin Garcia, Romeo Grembowicz, Erick Guzman, Tony Kochev, George Limacher, Daniel Mateo, Jose Nevarez, Michael O'Shea, Zach Pekol, Kyle Rainey, Zachary Roberts, Dan Schalk, Janick Schwab and Colton Sullivan.
Receiving individual medals for placing in the top 25 were Dan Schalk, who placed 7th; Erick Guzman, who placed 12th; and Tony Kochev, who placed 21st.
Troy Middle School Girls Cross Country Team member Joslyn Prosek placed 5th individually at the competition, and Angela Ceballos also ran at state for the girls.
Coaches for the teams are John Davis, Stephanie Oswald, Nicole Koenig and Courtney Correa.
Photo attached: The Troy Middle School Boys and Girls Cross Country Team members who placed in the top 25 individually were, from left, Erick Guzman, Dan Schalk, Joslyn Prosek and Tony Kochev.