In Our Own Backyard: A Tidal Wave of Disasters
Kay Bolden | 9/7/2017, midnight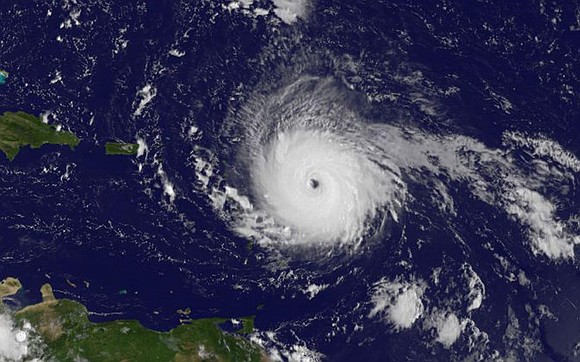 Only days after the brutal destruction wreaked on Texas by Hurricane Harvey, another catastrophic storm is striking the Caribbean, apparently bound for the Florida coast. Hurricane Irma, now bearing down on the Caribbean, Puerto Rico and Florida, has intensified to a catastrophic Category 5 storm. The hurricane is packing winds of a whopping 185 mph, making it the most powerful hurricane to form in the Atlantic Ocean since satellite observations began.
How does climate change affect these storms? In numerous ways:
Sea level is 6 inches higher than it was a couple of decades ago. The oceans are rising due to melting glaciers; coastal damage from oil drilling and other industries; and rising sea temperatures from greenhouse gasses and global warming. The result: the storm surge was half a foot higher than it would have been just decades ago, meaning far more flooding and destruction.
The warmer the water, the more moisture the air holds—as much as 3-5% more moisture per degree. That creates the potential for much greater rainfalls and greater flooding, which is what Houston is enduring right now.
Aggravating conditions in Texas is the lack of drainage system capable of handling the rain brought by Harvey—a problem many low-lying coastal regions face. It is one thing to deny climate change; it is foolhardy and dangerous not to prepare our cities with the infrastructure and systems they need to survive the storm.
In the weeks before Hurricane Harvey hit Texas, the Trump administration rescinded Obama-era flood standards, relaxing regulations in order to get infrastructure projects approved more quickly. The rule would require builders to make infrastructure more resilient to the effects of climate change, such as rising sea levels, by increasing standards for flood-resistant bridges, roads and other infrastructure.
As Irma surges toward Florida, mandatory evacuations have begun in the Florida Keys and gas shortages are already reported in south Florida, as people try to get out early. It's still unclear whether Irma will come ashore on the Florida coast, or move east to assault the Carolinas.
Meanwhile, Tropical Storm Jose, which is following behind Irma on a similar path, is nearing hurricane strength. Jose officially became a tropical storm on Tuesday before noon with winds of 40 mph and is expected to become a Category 2 hurricane by the end of the week. It could skirt the most northeastern Caribbean islands, but so far it is not projected to be a threat to Puerto Rico or the U.S.
Climate change doesn't cause hurricanes, but Harvey—and Irma—are providing clear evidence that climate change makes them worse. The current White House may deny it, but the scientific evidence keeps pouring in that climate change is real, is really caused by humans, and will cause real impacts on our lives in the years and decades to come.
The 2017 hurricane season may be a harsh lesson in global warming for us all.
Kay Bolden is an author, Times Weekly blogger, youth advocate, community activist and urban farmer on Joliet's southeast side. She'd love to hear your thoughts on sustainable living, economic justice, and how we can all live together on the only planet we've got. Follow her on Twitter @KayBolden or drop her a line at Kay@KayBolden.com.