Aldi stores hosting hiring events this Tuesday
9/11/2017, 3:09 p.m.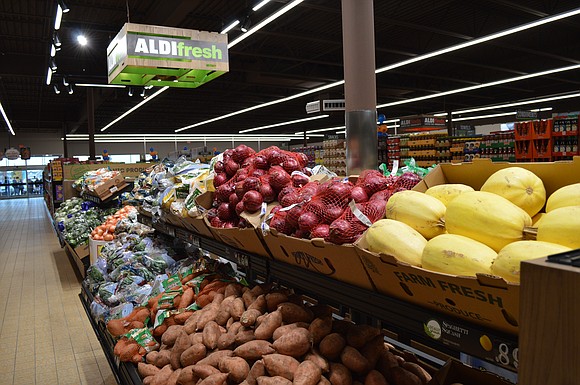 Most Chicagoland Aldi stores will be hosting hiring events on Tuesday, Sept. 12 from 9 a.m. to 7 p.m. as the grocery chain looks to fill more than 300 positions this week.
Job seekers can see what's available in their area by visiting the Aldi jobs website, careers.aldi.us.
Aldi offers wages and benefits higher than the national average for the retail industry, and much higher than the Illinois or Indiana minimum wage. Wages start at $11.75/hour.
Job seekers can apply in person at the hiring event closest to them.
In addition to their hiring blitz, Aldi has been unveiling newly renovated stores around Will County with remodeled stores opening in Joliet, Romeoville and Lockport in recent months.
The renovations are part of Aldi's $1.6 billion investment to remodel and expand more than 1,300 U.S. stores by 2020, with $180 million dedicated to enhancing more than 130 stores in Chicago
Aldi hiring event is Tuesday, Sept. 12:
What:
ALDI hiring events for Chicagoland stores and nearby Northwest Indiana locations
Who:ALDI representatives
Local residents currently seeking employment opportunities

When:Tuesday, Sept. 12, 2017
9:00 a.m. to 7:00 p.m.
Where:Most Chicagoland stores as well as Northwest Indiana locations in Crown Point, Gary, Hammond, LaPorte, Lowell, Merrillville, Michigan City, Portage, Schererville, St. John and Valparaiso
Positions: • Store Associate - $11.75 – $13.50 per hour, depending on location
• Shift Manager - $16.25 – $18.00 per hour, depending on location
• Manager Trainee - $54,000 – $56,192 per year ($22.25 - $22.75 per hour averaging 45 hours per week), with an opportunity to earn $76,000 to $100,000 per year as a Store Manager
Job Requirements:
• Must be 18 years or older to apply
• High school diploma or GED preferred
• Must be available to work anytime between 6 a.m. and 11 p.m., Monday – Sunday
• Retail experience preferred
• Management experience preferred for Manager Trainees
• Drug screening and background check
• Ability to lift 45 pounds
Quick Facts:
• ALDI offers employees generous wages and benefits that are higher than the national average for the retail industry
• ALDI staff averaging more than 25 hours a week are eligible for full health insurance benefits and dental coverage
• All employees are invited to participate in the 401(k) program