County looking at revenue losses due to state budget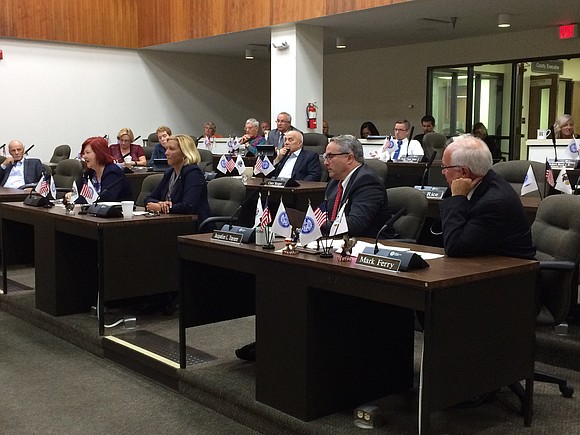 Will County officials are beginning to grapple with the hurdle presented in the new state budget that will reduce revenues by about $2.4 million next year. In addition, as the county looks at ways to fill the void left in their revenue stream, officials are also considering the damage that's been done to higher education and a shrinking workforce that's leaving the state.
Finance committee chair Mike Fricilone revealed that number this week during a legislative committee meeting attended by a pair of state senators and representatives.
He noted the loss of RTA sales tax revenue, a new 2% charge for sales tax collection, a 10% reduction in local government distributive funds as well as a reduction in replacement tax funds that's lead to the deficit. In addition, Fricilone said that the county is looking at another $2.3 million in increased employee health care costs.
"We start out the year minus $4.7 million," he said.
Fricilone expressed his frustration with legislators who voted to approve the budget despite the lack of transparency he said of the local impact on counties and cities like Joliet which is also looking at a loss of about $2 million from their budget next year.
"I didn't see any legislator stand up and say part of the way we're balancing this budget is we're going to take money away from the counties and the cities," said Fricilone.
He said that the county has been frugal with its finances and has passed balanced budgets while also having to contend with unfunded mandates from the state including a 911 consolidation plan.
"When the negotiations were happening how was the decision made to hurt counties, and cities, and take money that they need to run their operations?," he asked the legislators in attendance.
State Senator Pat McGuire who attended the meeting along with Senator Sue Rezin and Representatives Margo McDermed and John Connor, said that the budget was a result of a compromise worked out between Senate President John Cullerton and former minority leader Christine Radogno. He said that there were aspects of the budget that both sides liked and disliked.
McGuire said that the budget along with the tax increase frees up an additional $350 million for general state aid for local school districts. He said a reform bill that changes the formula for how money is distributed will help schools with low property wealth and high student needs. That will mean an additional $12 million going to local schools including D86, D204 and Valley View School District. He said that the reforms are aimed at lessening the burden for education funding on property tax payers and nudging the state's share closer to the 51% required by law.
State Senator Sue Rezin (38th) said that despite the frustration over the budget, she noted state education funding reform was one of the positive developments that came from the budget negotiations.
"It does more equitably fund schools," she said.
The lack of a state budget for the past two years also threatened the accreditation of some of the state's public universities said McGuire which has been a reason that many college-age students are going elsewhere to attend school or start their careers.
That was a theme that new State Representative John Connor said he heard from conversations with two local business owners who have lamented the dearth of educated young people to hire for their companies as a result of the budget impasse.
"They talked about the damage that was done to higher education," he said.
True reform of education and property tax relief won't come until the underlying issues are fixed said State Representative Margo McDermed (37th).
Property tax relief she said has to come by "relieving local government of some of the burdens they face many of them of which are imposed by the state of Illinois" including pensions, school mandates, and worker's compensation.
While the county and local government officials feel that the state is balancing the budget at their expense, there is also growing concern that pricey pension and benefits packages available to state and local government workers are being paid for by tax payers said board member Judy Ogalla.
"We're taxing people out," said Ogalla whose district sits next the border with Indiana.
"We have to make sure their pension benefits don't supersede our constituents."