Joliet's first microbrewery open for business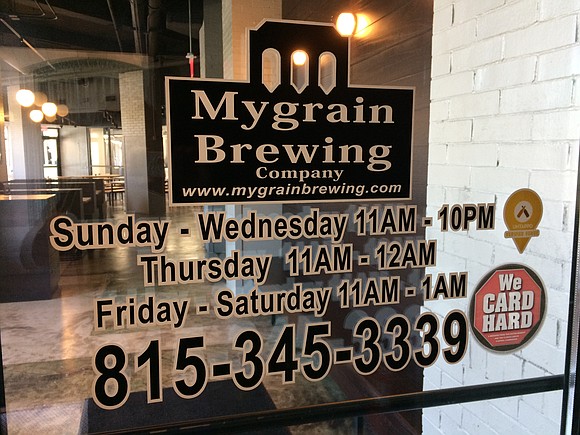 Like many entrepreneurs lured to the business of microbrewing, Vince Turrise first got his start as a home brewer whipping up batches of beer on the weekends with friends.
"How awesome would it be if we could do this on a bigger scale?," he recalled Monday, the day after their opening weekend of MyGrain Brewing, 50 E. Jefferson St.

Turrise along with his business partner Gregory Lesiak opened the doors to MyGrain Brewing last week in a 12,000 square foot space in the former Union Station in downtown Joliet.
Complete with a ten-barrel brewing system and a full-time chef cooking up food for hungry customers, Turrise said that the new business is a result of his personal passion for brewing beer and wanting to share that passion with others.
Turrise said that the crowds were big their first weekend and those who came looking to sample their beers learned that the food from their chef was just as much of a draw.
"People were super happy with the food," said Turrise.
The microwbrewery, which has 5 of its brews on tap and is looking to add another 5 in the coming weeks will begin looking for a local distributor once things calm down from their opening. The pair also is planning a grand opening sometime this fall he said.
Originally from Chicago, Turrise said that the pair looked around for a suitable space before discovering the Union Station location in Joliet which he said came with the added benefit of it being in the third largest city in the state that still didn't have its own microbrewery.
He said that the city has been supportive of their venture and helped with some of the internal restoration which included the repair of a rusted support column that slowed down their progress.
The city council first approved a lease agreement for what was then called the Golden Spike microbrewery in February 2016. Under the terms of the 5-year lease the brewery will rent the space for $8 per square foot or $84,000 per year. The site was the former home of Bar Blu and part of a former Amtrack train terminal. The lease agreement includes up to $300,000 of rent credits for improvements that are completed and will include two extension options of 5 years each. Rent would increase during the second and third phase of the agreement to a top annual lease amount of just over $102,000 in year 15.
Back in February, Assistant City Manager and Economic Development Director for the city Steve Jones said that having a brewery in the downtown would be a regional draw and could help sell the "Joliet brand" around the region.
Friends, Michelle Xydakis, Kim Sikora and Sara Conley drove up from Morris to have lunch and sample some of MyGrain's brews. Though more familiar with wine, the three said that they've become more interested in sampling what places like MyGrain have to offer and appreciate the unique variety offered at microbreweries.