Garlic-Rosemary Pork Chops with Brussels Sprouts
9/18/2017, 11 a.m.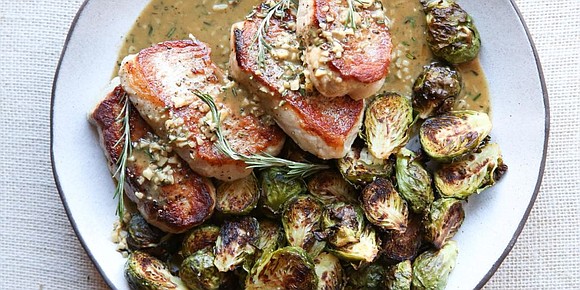 SERVINGS: 4 / TOTAL TIME: 0:30
INGREDIENTS
• 1 lb. Brussels sprouts, trimmed and halved
• extra-virgin olive oil
• kosher salt
• Freshly ground black pepper
• 4 boneless pork chops, 1" thick
• 4 garlic cloves, minced
• 1 c. low-sodium chicken stock
• 1/4 c. heavy cream
• 1 tsp. chopped fresh rosemary
• 3 tbsp. unsalted butter, cut into pats
DIRECTIONS
Preheat oven to 425 degrees F. Toss brussels sprouts with olive oil; season with salt and black pepper. Spread evenly across sheet pan, cut side down. Bake until golden brown about 25 to 30 minutes. Rotate sheet pan if necessary for even browning.

Meanwhile, in a large cast iron skillet over medium-high heat add 1 tablespoon olive oil. Pat pork chops dry with paper towel and season with salt and pepper. Sear pork for 2 minutes on each side; transfer to a plate and cover with foil to rest.

Reduce skillet to medium heat and sauté garlic until softened, about 3 minutes. Season with 1 teaspoon salt and 1/2 teaspoon black pepper. Stir in stock and cream, simmer until slightly reduced, about 5 to 10 minutes. Add rosemary and simmer on low until infused, about 1 minute. Turn off heat and stir in butter to create a creamy sauce. Add pork chops back and pour sauce over top. Cover with lid until pork is warmed through.

Serve pork chops immediately with brussels sprouts.