Democratic hopefuls make case to voters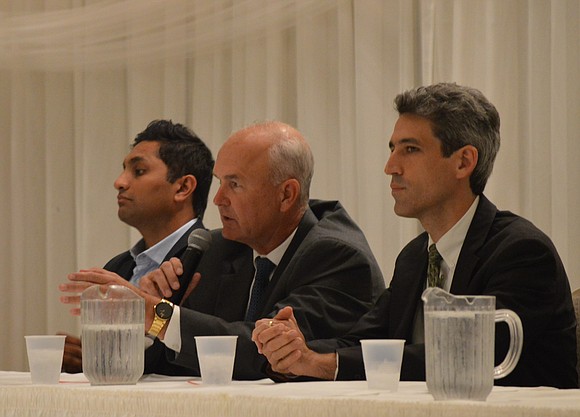 Five of the nine candidates running for the democratic nomination for Illinois Governor got a chance to make their case this week in Joliet.
Those candidates included state senator Daniel Biss; Madison County Regional Superintendent of Schools Bob Daiber; former director of CeaseFire Tio Hardiman; philanthropist J.B. Pritzker; and Chicago alderman Ameya Pawar.
The event on Sunday at the International Brotherhood of Electrical Workers local 176 hall was organized by the Illinois Democratic Women of Will County which included a meet and greet session before a 2-hour question and answer forum gave democratic voters a chance to meet candidates and hear how the felt on a range of issues.
Those topics included how to deal with the state's crushing $14 billion debt and $130 billion pension obligations; term limits; property tax reform; education funding; access to health care; how to deal with the opioid crisis; soda taxes; and Illinois remaining a sanctuary state.
Before the start of the forum, philanthropist J.B. Pritzker told the Times Weekly that he's running for office to circumvent the damage he sees being done in the state by the current Governor, Bruce Rauner.
"Everything that I care about is under siege by Bruce Rauner and Donald Trump," said Pritzker.
He said that he's worked over the years to expand free breakfast programs for kids as well as education and childcare programs.
"Virtually everything as a progressive democrat that I believe in, Bruce Rauner is trying to tear down," he said.
Another candidate, Bob Daiber, before the forum discussed how the state can fix its education funding.
"We have to move away from a property tax based funding of schools in Illinois to a more equitable tax base," he said.
That means creating a level playing field and a funding source that doesn't rely on Equalized Assessed Value of property that tips funding in favor of more affluent towns. He said that taking that burden off residential property tax bills would also help bring property tax relief for homeowners.
"That's when you'd begin to see real property tax relief," he said.
State Senator Daniel Biss, before the forum, said that many of the problems afflicting the state are "man made."
He points to Illinois' affluence, robust economic base and diversity as advantages that haven't been harnessed.
"Our government has gotten in the way," he said. He said fixing the problem means building a government that "works for the rest of us, that is responsive to ordinary people and people across the state."
On the topic of curbing the rising costs of health care access, Chicago Alderman Ameya Pawar said during the forum that even if health care for all isn't feasible at the national level it's something that he thinks is achievable in Illinois. He said that universal health care would act as a stimulus in the state taking the burden off business owners having to pay wages and grapple with sky rocketing insurance premiums.
"Wages go up, costs for businesses go down, and more businesses can hire and expand," said Pewar.