Democratic hopefuls make case to voters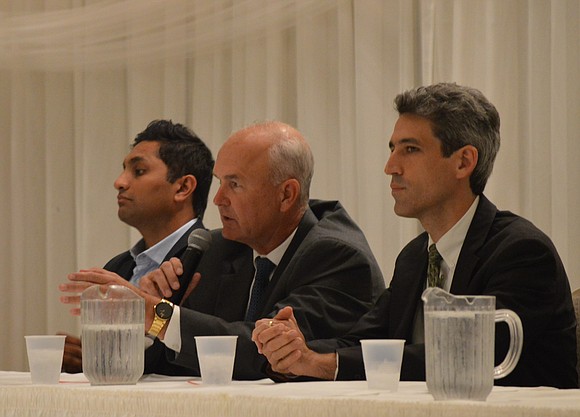 "The problem is, the people who would have to pay a little bit more…will tell you that this is a disaster."
The opioid crisis, one of the biggest public health threats facing the state and Will County, was also addressed.
Candidate Tio Hardiman said that he's helped in the recovery effort for drug addiction and seen first-hand the devastating impact it can have on families and communities. He said he would appoint a drug czar if elected to oversee the efforts in dealing with the opioid crisis.
"To deal with this opioid crisis we must have boots on the ground to make sure that people get the service that they need," he said.
Following the forum, Plainfield resident Vicky Polito said that she took extensive notes and liked what many of the candidates had to say though she doesn't agree with many of them that a progressive income tax is the fix the state needs for its finances.
She said she was leaning toward Pewar, and liked his take on the topics but gives Biss credit for addressing the lack of women running for the governorship during the forum.
"What have you done to try to promote more women candidates?," said Polito who hopes that support for a woman candidate goes farther than just paying the topic lip service.
Of the seven gubernatorial candidates who have announced their running mates, three have selected women to serve as their lieutenant governors including Biss, Pritzker and Hardiman.
State Rep. Natalie Manley (98th District) said that the lack of a female candidate for the office was "disappointing" but thinks that the recent Presidential election has energized more women to run for local offices.
State Senator Jennifer Bertino-Tarrant, called the lack of a female candidate "a lesson learned" and said she and the Illinois Democratic Women of Will County would encourage more candidates to run for office.
"We have to position women in places where they can take that next step," said Manley.