Goodman Theatre 2017 Season opener- A View From The Bridge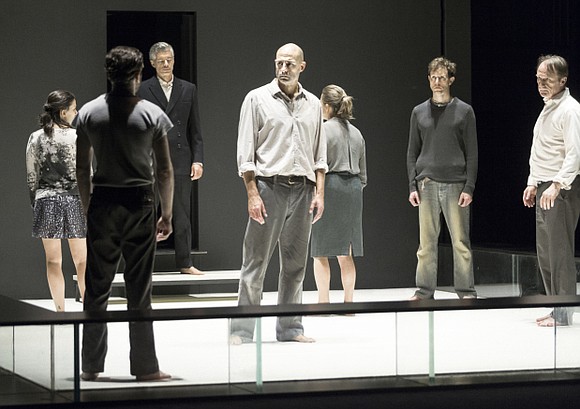 Goodman Theatre of Chicago opened its 2017 season with the Arthur Miller classic, A View From The Bridge. This brings famed Belgian director Ivo van Hove's celebrated London Young Vic production to Chicago for the very first time. The Goodman has had a long association with the famous playwright, first introducing Chicago audiences to Miller's Death of a Salesman in 1953, then presenting Miller's adaptation of Ibsen's An Enemy of the People in which it famously inaugurated its "colorblind casting" with Academy Award nominee Paul Winfield in the title role. Miller's final play, Finishing the Picture, which was inspired by the author's star-crossed marriage to Marilyn Monroe, was directed by Goodman Artistic Director Robert Falls just a few months before the famed playwright's death.
With a cast composed of principals who are, for the most part, in their Goodman debut (with the exception of Catherine Combs as Catherine, who also starred in the LA and Kennedy Center productions of van Hove's Bridge), this is a high-speed-train of a production that takes no emotional prisoners. The minimal set with its barefoot actor's resembles a cage-boxing arena, with risers on either side containing an onstage audience of about a hundred people with a ringside seat of the heated emotional sparring that unfolds.
The cast is superb, with Ian Bedford in his Goodman debut as Eddie, the strong-willed longshoreman living in 1950s Red Hook Brooklyn, who is consumed in his self-righteous protectiveness of his 17 year old niece, Catherine, who he has been raising as fulfillment of a death-bed promise to a dying relative. Young, with a blossoming womanhood and seething hormones, she is artfully played by Catherine Combs, who is returning to the Goodman. The remaining cast members also in their Goodman debuts, are equally superb. Ronald L. Connor is Louis, the immigration attorney who is the on-stage narrator and conscience of the events that drive the play's plot points. He is of Sicilian descent, just as are the majority of his immigrant clients. He is well aware of the emotional and cultural forces that drive men like Eddie and his latent and ill advised sexual desire for his niece. We quickly learn of his in- your- face underlying loathing toward his newly arrived illegal immigrant cousins. The play is structured somewhat like a Greek tragedy. The audience knows it will all end badly, but they aren't sure quite how. Hurtling at breakneck speed toward the inevitable, the play ends after two intermission-less hours with both the actors onstage and the audience brought to the point of exhaustion. This is a must-see production! For tickets and information visit goodmantheatre.org.