Illinois Supreme Court ruling upholds Peterson conviction
State's Attorney Jim Glasgow calls Peterson, 'a psychopath' in remarks to Will County Board.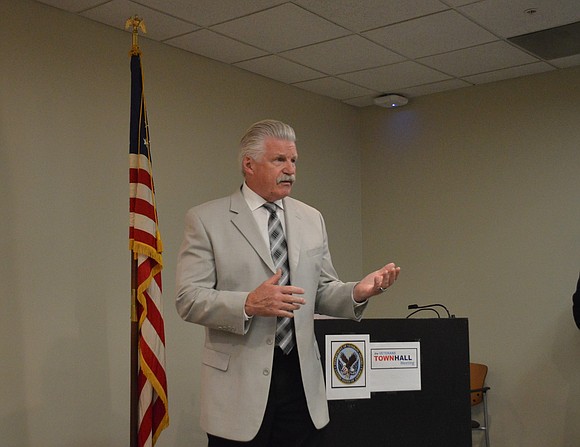 Will County State's Attorney Jim Glasgow thanked the Will County Board and Executive Larry Walsh for their support of his office's pursuit in the conviction of former Bolingbrook police officer Drew Peterson.
"Without this county board and this county executive I could not possibly have done this case," Glasgow told the board in September.
"The resources you provided were absolutely essential," he said.
Glasgow's comments to the board came a day after the Illinois Supreme Court issued a ruling upholding Peterson's conviction for the murder of his third wife Kathleen Savio. The former police sergeant is currently serving a 38-year sentence for the 2004 death of Savio which was initially ruled as an accident. That case was re-opened in 2007 following the disappearance of Peterson's forth wife Stacy whose whereabouts are still unknown.
In both cases, hearsay testimony from both of Peterson's wives was used in building and prosecuting a case against him which lead to his appeal.
Glasgow said that the Peterson case was "unlike anything we've ever done in this county before."
Peterson is also set to serve another 40 year sentence following a 2016 conviction for the murder-for-hire plot he hatched against Glasgow while in prison. Glasgow acknowledged the county's role in helping to protect him and his family during that time to "make sure that they were protected."
In an FBI recording of Peterson, Glasgow said that the former cop said "if I was out on the street right now I'd take care of him [Glasgow] myself."
"This was serious business all the way along," said Glasgow adding that the prosecution helped put away a killer.
"This is a psychopath who killed two women," said Glasgow who noted that the disappearance of Stacy Peterson case "isn't closed by any stretch of the imagination" either.
Chuck Pelkie, a spokesperson for Glasgow's office said that the county allocated about $619,000 for both Peterson's and Matthew Vaughn's prosecutions. Former Oswego resident Matthew Vaughn was prosecuted and found guilty in 2012 for the murder of his wife Kimberly and their three children in 2007. His trial took place simultaneously with Peterson's between 2010 and 2013 during which time the county board was given regular updates on the expenses for both trials.
Pelkie said that the expenses covered the investigation, and prosecution of what he described as "complex and very intensive cases."
He said that Glasgow was grateful to the county board for "placing in our hand the tools that were necessary to prove both cases."
Glasgow called Vaughn "the family annihilator" and said that despite the pressure of two high profile cases running simultaneously he "never had so much pleasure doing my job because I don't have to worry about being fettered or restricted by resources that should be allocated."